US, Turkish officials meet to ease growing tensions
CONCERNS Turkey's parliament was expected to approve a military campaign in Iraq as early as this week, while the 60,000 Turkish troops have gathered along the border
Two senior US officials promised that they would convey to Iraq Turkey's unease over Kurdish rebels in the north but they also expressed concern over the possibility of a Turkish military offensive in the region.
While in Moscow, US Secretary of State Condoleezza Rice acknowledged "a difficult time" in relations with Turkey. She appealed for restraint against Kurdish rebels in northern Iraq and in Turkey's angry response to a genocide resolution in Congress.
Dan Fried, US assistant secretary of state for European affairs, and Eric Edelman, US undersecretary of defense for policy, met with Turkish officials on Saturday in a bid to assuage anger over the resolution, which would label the World War I-era killing of Armenians by Turks a genocide.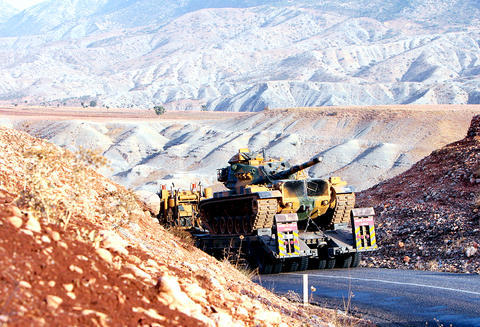 A military truck carries a tank toward Sirnak, Turkey, near the Iraq border on Tuesday, two days after Kurdish rebels killed 13 Turkish soldiers.
PHOTO: AP
Turkey recalled its ambassador to Washington for consultations after a House of Representatives committee's approval of the resolution last week and warned of serious repercussions if Congress passes the resolution.
The committee's approval raised concerns that Turkey may be less restrained about defying the US.
US officials said on Friday there are about 60,000 Turkish troops massed along the country's southern border with Iraq. But the US military has not seen activity to suggest an imminent offensive against Kurdish rebels based in northern Iraq who have been crossing the border to attack Turkish forces.
Turkey's parliament was expected to approve a government request to authorize an Iraq campaign as early as this week. The US is concerned a Turkish incursion into northern Iraq would disrupt one of the country's few relatively stable areas.
Kurdish rebels killed more than 15 Turkish soldiers in the past week and are blamed for an ambush that killed 12 people the week before. The government responded to the deaths by announcing tougher measures against the rebel Kurdistan Workers' Party, which has bases in northern Iraq and has been fighting the Turkish government since 1984.
Fried and Edelman promised to convey Turkey's concerns to Iraqi officials in the Kurdish region. At the same time, "we told our concerns" over any Turkish military incursion, Edelman told reporters in the capital Ankara after meeting Turkish Foreign Ministry officials.
Turkey's military preparations come amid concern in Washington that the genocide resolution could jeopardize supply routes the US military has used to move armored vehicles to troops in Iraq.
About 70 percent of US air cargo headed for Iraq goes through Turkey, as does about one-third of the fuel used by the US military there. US bases also get water and other supplies overland by Turkish truckers who cross into Iraq's north.
At issue in the resolution is the killing of up to 1.5 million Armenians by Ottoman Turks. Turkey denies that the World War I-era deaths constituted genocide and says the toll has been inflated.
Turkey also contends the dead were victims of civil war and unrest that killed Muslims as well as the overwhelmingly Christian Armenian population.
Fried promised the administration of US President George W. Bush would work to prevent the adoption of the resolution.
"We will do everything we can so that this resolution will not come to the House floor," he said in an interview with private NTV television.
The US officials flew to Ankara from Moscow, where they had been on the trip with Rice.
"Secretary of State Rice Condoleezza Rice asked us before we came here to express that the Bush administration is opposed to this resolution," said Edelman, who was the US ambassador to Turkey from 2003 to 2005.
Rice said she spoke on Friday by telephone with Turkey's president, prime minister and foreign minister about the genocide resolution.
"They were dismayed," she said.
"I urged restraint," she added, referring to both the reaction to the genocide resolution and in the situation in northern Iraq.
"The Turkish government, I think, is trying to react responsibly. They recognize how hard we worked to prevent that vote from taking place," Rice said.
Comments will be moderated. Keep comments relevant to the article. Remarks containing abusive and obscene language, personal attacks of any kind or promotion will be removed and the user banned. Final decision will be at the discretion of the Taipei Times.