Obama campaign reaches out to young voters
Senator Barack Obama has struck a chord among young voters and his campaign is making what seems to be the most sophisticated effort of any of the Democrats to reach out to them, sending recruiting teams to Iowa high schools and trying to ensure that New Hampshire college students who might be out of state on Primary Day get absentee ballots.
Fred Thompson, a Republican candidate for president, spoke to a few hundred people the other night in at the Marriott convention center in Coralville, Iowa.
The crowd was decidedly older, for the most part north of 50.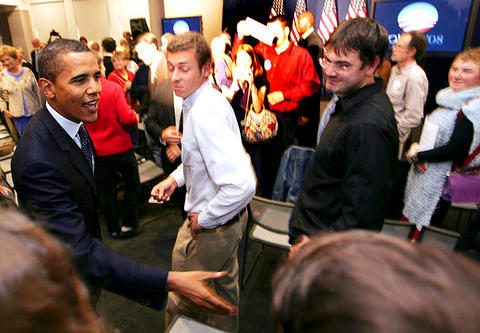 Democratic presidential hopeful US Senator Barack Obama of Illinois, left, reaches out to shake hands after delivering a speech on energy policy in Portsmouth, New Hampshire, on Monday.
PHOTO: AP
A few hours later, Obama, an Illinois Democrat, addressed an audience of more than 1,000 just up the hallway. His crowd contained a striking number of people under 30.
What this would mean at the polls is unclear.
Every four years, as sure as a sunset, articles appear about a surge of interest among younger voters in presidential politics, typically predicting a jump in turnout that will benefit one campaign or another. But the predictions have rarely been correct.
Polls taken by the New York Times and CBS News last month suggest that there is no difference in the level of support between Obama and Senator Hillary Rodham Clinton among younger Democratic voters.
Obama's campaign hopes this will finally be the year -- and Obama the candidate -- to produce a burst of young voters.
Perhaps alone in the field, Obama displays an ease in talking with younger voters and a style that cuts across generations. An e-mail message he sent out recently had the subject line "hey" and was signed only "Barack."
At 46, Obama has no creases in his face and works out every day. Democrats may debate whether his youthfulness makes it tough for him to come across as being "presidential."
At the least, it means that he does not come across as parental to those of newly voting age.
In addition, Obama has firmly identified himself as an anti-war candidate, which historically has been an integral part of the appeal of candidates who have done well among younger voters.
Comments will be moderated. Keep comments relevant to the article. Remarks containing abusive and obscene language, personal attacks of any kind or promotion will be removed and the user banned. Final decision will be at the discretion of the Taipei Times.