Fujimori trial set to begin late next month
THE RECKONING The former Peruvian president faces 30 years in jail and a fine of US$33 million over the killing by death squad of a number of students in the 1990s
Former Peruvian president Alberto Fujimori's trial on murder and kidnapping charges will begin late next month, a Supreme Court judge said on Friday.
Fujimori, 69, who is being held at a police base in eastern Lima, was extradited from Chile last month to face seven charges of human rights violations and corruption in Peru.
Cesar San Martin, head of a three-judge Supreme Court panel that will try Fujimori on six of the seven charges, said in a news conference that Fujimori's first trial, for murder and kidnapping, will begin on Nov. 26.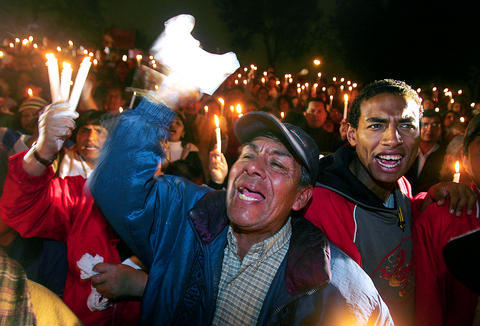 Supporters of former president Alberto Fujimori rally in Lima, Peru, on Friday.
PHOTO: AP
Fujimori faces up to 30 years in prison and a fine of some US$33 million if convicted of the 1992 death-squad slayings of nine students and a professor at La Cantuta University and the 1991 killings of 15 people in Lima's Barrios Altos neighborhood.
The first trial also includes charges he ordered the kidnapping of a prominent journalist and a businessman.
In two later trials, he will be judged for allegedly paying US$15 million in state funds to jailed former spy chief Vladimiro Montesinos to get him leave his post, bribing opposition congressmen, illegal wire tapping and the misuse of state funds.
About 300 Fujimori followers gathered on Friday night for a vigil at a Lima monument that honors some 70,000 people killed in the war against the Sendero Luminoso group that shook Peru throughout the 1980s and 1990s.
Comments will be moderated. Keep comments relevant to the article. Remarks containing abusive and obscene language, personal attacks of any kind or promotion will be removed and the user banned. Final decision will be at the discretion of the Taipei Times.