FEATURE: Not everyone is happy about Russia's 2014 Games
For the residents of Golubaya Street, set on a wild shore of the Black Sea coastline, Russia's victorious bid to host the 2014 Winter Olympics has brought little cheer.
"They told me my house didn't fit in with their plans," said Nina Ryndina, 63, a former kindergarten teacher at a local state farm who has lived in this sunny corner of Russia for 30 years.
Ryndina is one of thousands of residents in an area known as the Imeretinsky Lowlands on the outskirts of Sochi who face imminent removal to make way for construction of the Olympic Village and ice-skating rinks.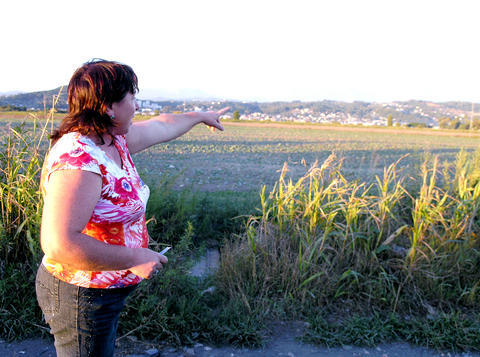 Lyuba Fursova points to the land that her family has farmed for three generations in the Imeretinsky Lowlands of Sochi on Sept. 19. Fursova is one of thousands of residents in the area who face imminent removal to make way for construction of the Olympic Village and ice-skating rinks.
PHOTO: AFP
Along with 29 other residents in the bungalows of leafy Golubaya Street, Ryndina has written a plea to local authorities, police, prosecutors and Russian President Vladimir Putin.
"If the state can't defend our rights, then we'll even go to the European Court of Human Rights," said Ryndina, a diminutive woman in a flower-print top sitting at a plastic table by her wooden home.
The trouble for many of the residents here is that their homes are not officially registered and they fear there will be little or no compensation for any expropriation.
Officials have sought to play down concerns ahead of construction in the Imeretinsky Lowlands, which is planned to start in April of next year, but say forced expropriation could happen.
"Expropriation should be avoided but we do not exclude it. We know this is a painful subject," Deputy Economic Development and Trade Minister Stanislav Kuznetsov said at a recent economic forum in Sochi.
Fears have been raised further among residents after a law was put forward in the Russian parliament earlier this month that would make it easier and faster for the state to seize property.
"Basically everyone knows that their houses are going to be knocked down. It's just a question of time," said Dmitry Kaptsov, 20, a local environmental and social campaigner from the North Caucasus Ecological Watch.
Kaptsov estimated the population of the lowlands at around 5,000 people.
Environmentalists warn that construction may seriously harm to a fertile area that contains rare plants and is a key stopping-off point for migratory birds.
Lyudmila Shaverneva, 38, lives with her husband and two children in a house measuring 96m2 built on a plot of land around a shack that she inherited from her father in 1993.
"It doesn't help that we've lived here all these years. Our house is considered illegal," said Shaverneva, who has been told by local officials that she will have to move into the shack, which measures 9m2.
"No one has any right to anything. We don't have any laws to protect us," said Shaverneva, who has filed an appeal in the local courts to keep the house but said she had little hope of succeeding.
Earlier this month, local television stations showed excavators tearing down one of the houses in the Imeretinsky Lowlands considered illegal. Residents understood this as a warning message.
With or without the right documents, however, some of the residents are vowing to resist any expropriation. Among them are dozens of Old Believers, a tenacious Orthodox religious sect dating back to the 17th century.
Lyuba Fursova, 45, is a member of an OldV Believer family that has farmed former swamps in the Imeretinsky Lowlands for three generations. They have a cemetery here, an Old Believer priest comes to visit on feast days.
Sitting in the shade of a vine in the courtyard of her home as her husband smoked nervously nearby, Fursova said: "Why should I leave? I've lived here all my life. I don't want to leave."
Comments will be moderated. Keep comments relevant to the article. Remarks containing abusive and obscene language, personal attacks of any kind or promotion will be removed and the user banned. Final decision will be at the discretion of the Taipei Times.