Car bomb explodes near Kabul airport
A suicide car bomb struck US forces on the road to the Kabul airport yesterday, killing and wounding several people including foreign nationals, witnesses and officials said.
A senior Afghan security official said on condition of anonymity that three foreigners were killed and two wounded along with four Afghan civilians killed and six wounded. The figures were not confirmed by other officials.
An Afghan witness said he had seen at least one US soldier dead along with three Afghans.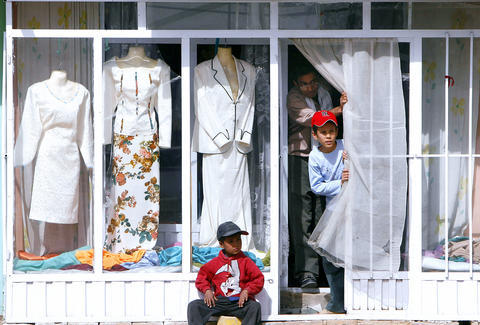 Afghans peek out from their tailor shop shortly after a suicide bomber attacked a US military convoy in Kabul, Afghanistan, yesterday.
PHOTO: AP
The US military said a two- vehicle convoy had been struck by an explosion but only one soldier was injured. The separate NATO-led force said it was aware of an incident but did not immediately have details.
The blast, similar to a string of attacks by the extremist Taliban movement, set several vehicles on fire and plumes of thick, black smoke spewed into the air. Wreckage was strewn across a wide area.
Afghan television showed pictures of a body in military uniform lying on the ground. A reporter at the scene saw a US soldier being treated for injuries.
"There was a suicide bombing in a car. The attack was on American forces," interior ministry spokesman Zemarai Basharysaid. There were several dead and wounded, he said, without giving details.
Health Minister Sayed Mohammad Amin Fatemi said one Afghan civilian died in hospital from severe wounds and eight others were hospitalized.
But witnesses said several people were killed at the scene, about 500m from the airport.
"The two foreign vehicles were driving towards the airport," said tailor Mohammad Fahim. "I didn't see the bombers' vehicle but I saw the explosion. One of the two vehicles flipped onto its side, hitting two civilian vehicles."
He said he saw a dead body taken from each of the civilian vehicles. "I saw another guy dead, he had been passing by on a bicycle. I saw two foreigners -- one was definitely dead. The other was lying down on the ground."
Kabul has been struck by a series of Taliban suicide attacks this year. The last was on Tuesday and killed 13 people.
The Taliban was driven from government in a US-led invasion that started exactly six years ago and was launched when their group did not surrender its allies in al-Qaeda after the Sept. 11 attacks on the US.
The insurgency has escalated every year, with more than 110 attacks already this year compared with 120 in all of last year.
Comments will be moderated. Keep comments relevant to the article. Remarks containing abusive and obscene language, personal attacks of any kind or promotion will be removed and the user banned. Final decision will be at the discretion of the Taipei Times.