Bhutto announces return to Pakistan
OUT OF EXILE The government has said it will not interfere with Benazir Bhutto's return. However, the former PM will have to face corruption cases against her
Benazir Bhutto, an exiled former prime minister, will return to Pakistan on Oct. 18, her party announced on Friday.
Supporters threw flower petals and lighted firecrackers, chanting: "Long Live Benazir! Prime Minister Benazir!" as the announcement was made at a meeting of her party in the capital. Bhutto had long made clear her intention to return to Pakistan this fall, but until now no date had been set.
Bhutto's planned return comes at an edgy time for Pakistan, during a period of political crackdown and increased violence in the border areas of the country.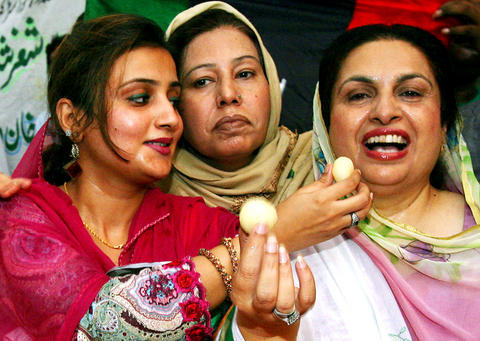 Supporters of the Pakistan People's Party (PPP) eat sweets to celebrate in Lahore on Friday after the announcement of the date of PPP chairperson and former Pakistani prime minister Benazir Bhutto's return. Bhutto is scheduled to return from self-imposed exile on Oct. 18.
PHOTO: AFP
Earlier this week, another exiled former prime minister, Nawaz Sharif, was arrested on corruption charges and deported within hours of flying into Islamabad, despite a Supreme Court ruling that he should be allowed to return to the country unhindered. Hundreds of opposition political leaders and workers have been detained in the last few days.
There are outstanding corruption cases against Bhutto, as well, and it was not clear on Friday whether she had reached any understanding with General Pervez Musharraf, Pakistan's president and military ruler.
Negotiations on a power-sharing deal between them, which would allow her to run for prime minister and the general for another term as president, appear to have stalled.
"I don't believe that the politics of threats and intimidation and blackmail by exploitation of the judiciary is going to work any more in Pakistan," Bhutto said in an interview with the BBC. "Our people are fed up and they want a restoration of democracy, and I have confidence in the people of Pakistan to rally around me in our movement for the restoration of democracy."
In Islamabad, Makhdoom Amin Fahim, a senior party official, said Bhutto would fly to Karachi. "The people of Pakistan will get real democracy" after she returns, he said. Bhutto has lived in exile since 1999.
In the past, Bhutto has emphasized that she is looking to work out with General Musharraf a smooth transition to democracy, whereas Sharif is seeking the general's removal from power.
Bhutto wants the corruption cases against her dropped and a ban on prime ministers running for a third term lifted. She was elected in 1988 and 1993, but both terms were cut short amid accusations of corruption.
The government said on Friday that it would not stand in the way of Bhutto's return but that she would have to face corruption cases against her.
Musharraf, severely weakened by protests over his four-month suspension of the popular Supreme Court chief justice, faces challenges on the constitutionality of his running again and holding the dual posts of army chief and president.
Bhutto has lived in self-imposed exile as a result of a long litany of corruption charges that persist. She has divided her time between London and Dubai, and recently has embarked on an international campaign to revive her political standing.
Seeking to assure Washington that she would be a staunch ally, she has in the past suggested that as an elected leader, she would be more credible than Musharraf, who has been criticized for a mixed record in combating the Taliban and al-Qaeda.
Comments will be moderated. Keep comments relevant to the article. Remarks containing abusive and obscene language, personal attacks of any kind or promotion will be removed and the user banned. Final decision will be at the discretion of the Taipei Times.