Hurricane Humberto belts Texas, Louisiana
NEW GIRL Ingrid, the ninth tropical storm of the season, formed in the Atlantic and at 5am yesterday was centered about 1,300km east of the Lesser Antilles in the Caribbean
Hurricane Humberto sneaked up on south Texas and Louisiana overnight and crashed ashore with heavy rains and 137kph winds, killing at least one person.
The system rapidly became a Category 1 hurricane, then lost strength to become a tropical storm by midmorning on Thursday as it bore down on central Louisiana. Roads were flooded and power was knocked out, but the greatest concern was heavy rain falling in areas that have already been inundated by a rainy summer.
Humberto was not even a tropical storm until Wednesday afternoon, strengthening from a tropical depression with 56kph winds to a hurricane with 137kph winds in just 18 hours, said senior hurricane specialist James Franklin said at the US National Hurricane Center in Miami.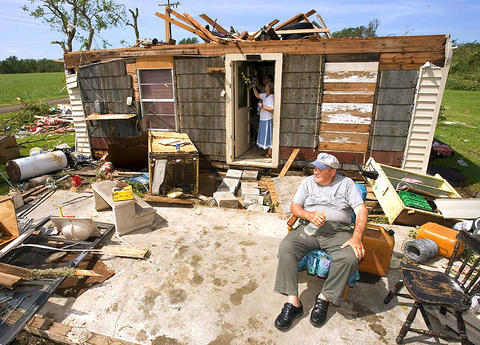 Jack Payton, 72, sits in front of his home that was damaged by high winds from Hurricane Humberto as his wife Connie removes a wreath from the front door on Thursday in High Island, Texas. The Paytons plan to stay with relatives until their home can be rebuilt.
PHOTO: AP
"Before Humberto developed, you looked at the satellite imagery the day before and there was virtually nothing there. This really spun up out of thin air, very, very quickly," Franklin said. "We've never had any tropical cyclone go from where Humberto was to where Humberto got."
Surprising as Humberto was, forecasters said it may have been a blessing that it did not linger longer over warm waters of the Gulf of Mexico, which could have given it time to develop into more than a minimal hurricane.
The only reported death was a man who died in southeast Texas when the carport at his home collapsed, police said.
Meanwhile, Tropical Storm Ingrid became the ninth storm of the Atlantic hurricane season when it formed in the open ocean, the National Hurricane Center said.
At 5am yesterday, Ingrid's center was located about 1,300km east of the Lesser Antilles in the Caribbean.
Ingrid was moving toward the west-northwest near 11kph and was expected to continue at that pace for the next 24 hours.
Maximum sustained winds reached nearly 64kph with higher gusts. Tropical storm-force winds extended outward up to 80km from the center.
Comments will be moderated. Keep comments relevant to the article. Remarks containing abusive and obscene language, personal attacks of any kind or promotion will be removed and the user banned. Final decision will be at the discretion of the Taipei Times.