Obama defends lobbyist donations
ETHICS LEGISLATION The Illinois senator said he suffers from the same `original sin' of politicians of having to raise money, but he still wants to clean up the system
Senator Barack Obama, who accepts special interest money and played poker with lobbyist friends as a lawmaker in Illinois, acknowledged on Thursday that he swims in "the same muddy water" that corrupts Washington, but he pledged to reform the system if elected next year.
Democratic presidential rival Senator Hillary Rodham Clinton "doesn't recognize the problem," Obama said.
"I have a bunch of friends who were state lobbyists. The fact of the matter is ... I played poker with them, so I don't think that lobbyists are evil," Obama said. "I just think they've got an agenda and you got to be clear about that, and not pretend that they don't."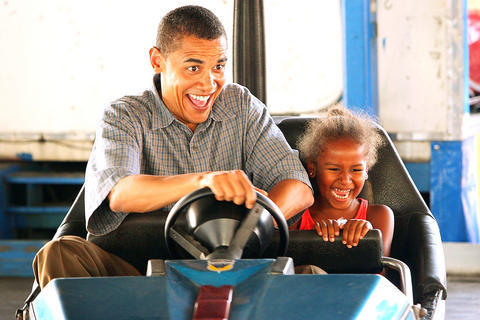 Democratic Senator Barack Obama drives a bumper car with his daughter Sasha at the Iowa State Fair on Thursday in Des Moines, Iowa.
PHOTO: AP
"Why else are they getting hired and making all this money unless they're actually getting something done?" he said.
The renewed criticism of Clinton and Obama's blunt assessment of his own role in the "original sin" of politics is the latest twist in a Democratic primary fight over lobbyist donations. Fellow Democratic presidential candidate John Edwards has challenged both Clinton and Obama to join him in refusing campaign donations from lobbyists.
In a joint appearance recently, Clinton refused to accept Edwards' challenge and issued a rare defense of lobbyists, saying many "represent real people." Obama joined Edwards in criticizing the New York senator, despite a record of accepting donations from state lobbyists -- including some who regularly played poker with Obama during his days as a state senator.
Obama said Thursday he was not being hypocritical.
"I haven't gone around blasting Hillary" for accepting lobbyist money, he said in a 20-minute interview. "What I said is she doesn't recognize the problem."
"My argument is not that we're perfect. I suffer from the same original sin of all politicians, which is we've got to raise money," Obama said. "But my argument has been and will continue to be that the disproportionate influence of lobbyists and special interest is a problem in Washington [and] in state capitals."
Obama pointed to his record of helping push ethics reform legislation through the Illinois Senate and Congress, and pledged to do more as president.
"The argument is not that I'm pristine, because I'm swimming in the same muddy water," he said. "The argument is that I know it's muddy and I want to clean it up."
A formidable fundraiser in a year of record-shattering political giving, Obama does not accept donations from lobbyists who press their cases in Washington, and he does not accept money from political action committees. He called that a good first step, if not a perfect one, that sends a signal that he would clean up Washington if elected.
"I do think that makes a difference," Obama said.
Not to Dan Leistikow, a spokesman for Edwards.
"John Edwards is the only candidate who has never taken a dime from PACs [political action committees] or Washington lobbyists, and he's leading the fight to get the entire Democratic Party to follow this example," Leistikow said.
While Edwards does not accept money directly from lobbyists, he eagerly solicits donations from people with ties to special interests and lobbyists -- particularly the trial lawyer profession, which has a stake in actions taken by the White House and Congress.
Mark Daley, a spokesman for Clinton, said: "Senator Clinton has proposed real government reforms, including ending cronyism and stopping the revolving door from government to lobbyist, and she has the strength and experience to enact them."
Comments will be moderated. Keep comments relevant to the article. Remarks containing abusive and obscene language, personal attacks of any kind or promotion will be removed and the user banned. Final decision will be at the discretion of the Taipei Times.