Athens residents flee ferocious fire
INFERNO Flames fanned by gales threatened affluent suburbs of Athens yesterday, destroying homes and causing power failures in the latest in a series of blazes
Hundreds of Greek firemen battled through the night to bring a forest fire threatening Athens under control early yesterday after it destroyed dozens of homes and forced hundreds to flee.
But more than 300 firemen backed by three helicopters dropping water on the flames were still fighting the blaze on Mount Pentelikon north of the capital yesterday, emergency services said.
Hundreds of firefighters and volunteers were called in by local authorities to battle the fire along the lush green slopes of Mount Penteli, about 19km north of Athens. The cause of the fire is not known.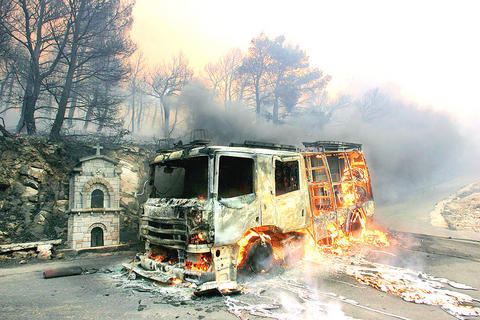 A fire engine burns near a wildfire atop Penteli Mountain, which overlooks the greater Athens area in Greece, on Thursday.
PHOTO: EPA
Despite early efforts to control the blaze, strong winds had the fire racing down the mountain, engulfing three affluent residential districts -- Nea Penteli, Melissia and Vrilissia -- in flames within three hours of its outbreak, officials said.
By midday on Thursday, hundreds of residents were seen tossing bags and belongings into their cars, fleeing not only the fire but also a spate of explosions apparently caused by gas boilers in flaming homes.
More than 10 homes were destroyed on Thursday when firemen also had to evacuate two clinics as winds of more than 80kph pushed flames toward them.
Some 130 patients were moved from a clinic in Melissia, some 20km from central Athens. Another 21 people were moved from a nearby health center.
One firefighter was injured in the operation and one emergency vehicle was burned. A dark cloud of smoke covered much of northern Athens.
"Strong winds and the smoke have hampered ours efforts," said Evangelos Falaras, spokesman for the Greek Fire Brigade. "We can't zero in on the flaming region. So, much of the water is falling off target."
The result: a series of power failures across the Greek capital caused by wet electricity pylons.
Answering criticism that fire services had reacted too slowly to the latest fire in the Athens suburbs, police spokesman Evangelos Falaras said water-bombing planes had been hampered by smoke and the violent winds.
The fire services said the forest fire may have been deliberately started.
Summer fires are regularly blamed on property speculators who burn forests in protected zones so they can then build on the land, even illegally.
The fire ravaged a pine grove recently reforested after two big fires in 1995 and 1998 destroyed thousands of hectares of trees.
Thursday's blaze was the latest in a series that have hit Greece this summer, including areas close to the capital. The blazes followed weeks of drought and heatwave.
A fire on Mount Parnitha, also overlooking Athens, early last month caused widespread damage.
The fires in Greece have killed eight people, including five fire-fighters, and burned huge swathes of forest and scrub land. Two water-bomber pilots were killed when their aircraft crashed battling a blaze on the island of Evia.
The appointment this month of a retired police brigadier to head a fire prevention ranger corps was attacked by critics who dismissed it as a body staffed by near-pensioners.
The corps will initially number 1,700 rangers and will eventually reach 4,500, said the public order ministry.
Much of southern Europe has been hit by drought caused by an intense heatwave which has been blamed for scores of deaths from Bulgaria in eastern Europe through to Spain in the west.
Comments will be moderated. Keep comments relevant to the article. Remarks containing abusive and obscene language, personal attacks of any kind or promotion will be removed and the user banned. Final decision will be at the discretion of the Taipei Times.