`Peace Mission' showcases new SCO muscle
The presidents of Russia, China and four Central Asian states attended unprecedented joint military exercises yesterday, intended as a display of strength before the Western world.
The vast show of firepower at a training ground in the Russian province of Chelyabinsk near the Kazakh border was the culmination of a nine-day exercise dubbed "Peace Mission 2007" that began in northwest China.
It involved some 6,000 personnel from the six countries of the Shanghai Cooperation Organization (SCO): China, Kazakhstan, Kyrgyzstan, Russia, Tajikistan and Uzbekistan.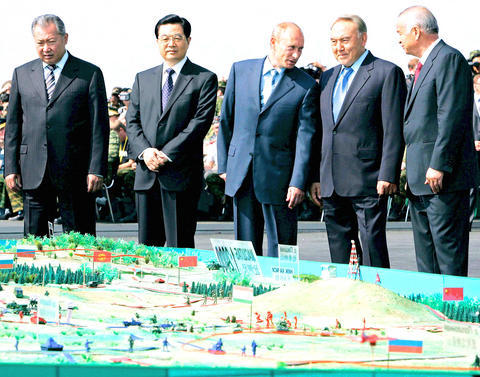 Kyrgyzstan President Kurmanbek Bakiyev, left, Chinese President Hu Jintao, second left, Russian President Vladimir Putin, center, Kazakhstan President Nursultan Nazarbayev, second right, and Uzbekistan President Islam Karimov, right, attend military exercises on the firing ground at the town of Chebarkul, Russia, yesterday.
PHOTO: EPA
A lone bugle player formally opened the exercises and helicopters, fighter jets and ground forces began using mock munitions to pound some 1,000 "terrorists" who had taken over a village fabricated for the exercises.
While Russia footed most of the bill for its phase of the exercises, spending some US$80 million, they marked a new level of military cooperation with China after the two countries held their first-ever joint maneuvers two years ago.
Beijing contributed 1,700 personnel and has sent war planes and helicopters to the Chebarkul training ground in the rolling Urals countryside.
The SCO grew out of a regional effort in the mid-1990s to reduce military forces along common borders and has evolved into military and economic cooperation, with the focus on Central Asia.
A glistening podium had been set up for the presidents overlooking the mock village at the center of the assault, from which surviving "insurgents" were later to try to flee across a hypothetical national border.
The exercises come after Thursday's summit where SCO leaders underlined their common opposition to perceived US hegemony. The summit was held in the former Soviet state of Kyrgyzstan, with Iranian President Mahmoud Ahmadinejad observing.
Russian media have highlighted the exercises' resemblance to an uprising in the Central Asian state of Uzbekistan in 2005. The Uzbek security forces' heavy-handed response has been called a massacre by human rights researchers, and hundreds were allegedly killed.
Russian President Vladimir Putin rallied to Uzbekistan's side on that occasion and has likened US moves to foster democracy in Central Asia to "a bull in a china shop."
China meanwhile still views Central Asia's Fergana Valley as "virtually the main breeding ground for instability in the region," commented Russia's Kommersant newspaper on Thursday.
Comments will be moderated. Keep comments relevant to the article. Remarks containing abusive and obscene language, personal attacks of any kind or promotion will be removed and the user banned. Final decision will be at the discretion of the Taipei Times.