Families visit site of bridge collapse
Increasingly frustrated by the slow pace of recovery efforts, families of the missing in Wednesday's Interstate 35W bridge collapse in Minnesota seemed heartened by a brief visit to the disaster site late on Saturday.
They also saw why it has been so hard for search crews to find bodies amid the fallen ruins of the eight-lane bridge, a Red Cross official said.
After the visit, "they had a better depth of understanding of ... the challenges that the rescuers are facing now that they've seen it first hand," said Melanie Tschida, a Red Cross spokeswoman.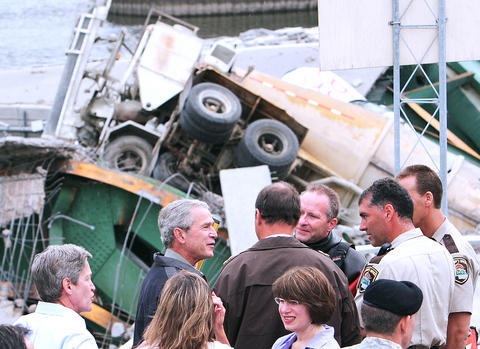 US President George W. Bush, second left, chats with law enforcement officials on Saturday as he surveys damage to a bridge that collapsed in Minneapolis, Minnesota, on Wednesday. Eight people are still missing.
PHOTO: AFP
"That has been one of the ongoing frustrations all along -- the lack of information and just the kind of endless wait of getting answers," she said.
The families were bused to the scene as divers were wrapping up a third fruitless day of searching for missing victims, finding no bodies inside a crushed car pulled from the bottom of the Mississippi River.
The search was scheduled to resume yesterday.
An interfaith service with songs and prayers for the victims of the collapse was set for 7pm yesterday. Money raised will be distributed to victims' families.
The official death toll stands at five.
Police late on Saturday released an official list of eight people still missing.
But police also cautioned that the number could still rise because it is possible some victims have not been reported missing. Investigators have names that haven't been connected to the bridge and divers and recovery workers have found license plate numbers that don't belong to an identified missing person or survivor.
Among the newest names added to the list were those of Vera Peck and her son, Richard Chit, who were in the same car.
Family members said Richard Chit had Down's syndrome and was virtually inseparable from his mother.
"One of them wouldn't survive without the other so maybe that's just the way it's supposed to be," sister Caroline Chit told MSNBC through tears.
The other six missing are Scott Sathers, 29, who worked at Cappela University, an online school; Christine Sacorafas, 45, who taught Greek folk dancing classes; Greg Jolstad, 45, a construction worker who was operating a skid loader on the bridge; Peter Hausmann, 47, a computer security specialist; and pregnant Somali immigrant Sadiya Sahal, 23, a nursing student, and her two-year-old daughter, Hanah.
Comments will be moderated. Keep comments relevant to the article. Remarks containing abusive and obscene language, personal attacks of any kind or promotion will be removed and the user banned. Final decision will be at the discretion of the Taipei Times.