Lebanese poll replaces murdered politicians
`TENSE VOTE' Replacements for the assassinated opponents of Syria were to be selected in yesterday's elections, which were called without presidential approval
Army and police patrols stood guard yesterday as thousands of Lebanese went to polling stations to vote in a key election to replace two assassinated lawmakers.
Yesterday's tense vote is taking place in two electoral districts, one in Beirut and the other in Lebanon's Metn region, a Christian stronghold where the community is deeply divided.
Voters will pick candidates to replace legislator and cabinet minister Pierre Gemayel, a Christian who was shot dead in November, and lawmaker Walid Eido, a Sunni Muslim who was killed in a Beirut car bomb in June. Both were allies of the US-backed Lebanese government and vocal opponents of neighboring Syria.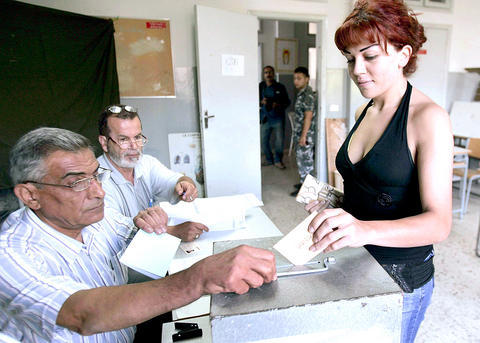 A Lebanese woman casts her vote in a ballot station in Bekfaya, Lebanon, yesterday. Lebanon's feuding political factions face off in disputed elections to replace two murdered lawmakers -- Walid Eido and Pierre Gemayel -- in a showdown seen as a test for the country's divided Christian parties ahead of presidential polls.
PHOTO: EPA
The elections could escalate the country's deepening political crisis because Prime Minister Fuad Saniora's Western-backed government called them without the required approval of President Emile Lahoud, who has blocked attempts to replace the lawmakers.
Lahoud is allied with the pro-Syrian, Hezbollah-led opposition, as is Parliament Speaker Nabih Berri, who has said he will not recognize the results of the contests.
Mohammed al-Amin Itani, a candidate of parliament majority leader Saad Hariri's Future Movement, is expected to easily win the contest for Eido's seat, because the Hezbollah-led opposition did not officially sponsor a candidate.
But in Metn, the vote for Gemayel's seat is a bitter contest between two candidates including the assassinated politician's father.
Amin Gemayel, who was president of Lebanon for much of the 1980s, has decided to compete for his son's seat on behalf of the ruling coalition. He faces off against Kamil Khoury, who is supported by Christian opposition leader Michel Aoun, a former army commander and prime minister allied with the opposition. Aoun's party dominated the district in the 2005 legislative elections.
At the entrance of Gemayel's hometown of Bikfaya, a large banner read "Vote for freedom and independence by voting for Gemayel in Metn and Itani in Beirut."
Gemayel and his wife, Joyce, began the day by visiting Pierre Gemayel's grave before heading to the polling station. As he later entered a school to vote, about 20 supporters of his Phalange Party chanted "Pierre lives on."
"We visited Pierre to ... promise him that his blood will not be in vain," Gemayel told reporters. "We love Lebanon, and Pierre died for Lebanon and all of us have no choice, no matter what the price is, but to serve it [Lebanon]."
Aoun, who was one of Syria's strongest opponents during its nearly 30-year military presence in Lebanon, said Gemayel did not do much to oust the Syrians since the end of the 1975-1990 civil war until Syrian troops pulled out in April 2005.
"Now that the Syrians are out, they blame me of being with them," Aoun said referring to accusations that he is trying to bring back Syrian dominance in Lebanon.
At many polling stations in Metn, Gemayel's supporters distributed white roses to voters before they cast their ballots in memory of the late minister.
Comments will be moderated. Keep comments relevant to the article. Remarks containing abusive and obscene language, personal attacks of any kind or promotion will be removed and the user banned. Final decision will be at the discretion of the Taipei Times.