Thailand conducts tsunami exercise
Thailand conducted Southeast Asia's largest tsunami evacuation drill yesterday along the Andaman coast that was devastated by earthquake-generated waves that killed more than 8,000 people in 2004.
About 5,000 people participated in the drill at Patong Beach, the biggest of 17 points on the resort island of Phuket, 680km south of Bangkok, said Niran Kanlayanamitr, the governor of Phuket Province.
The drill stared with an alarm, then announcements in English and several other languages that there was an earthquake and a tsunami was possible, so people should evacuate to high ground.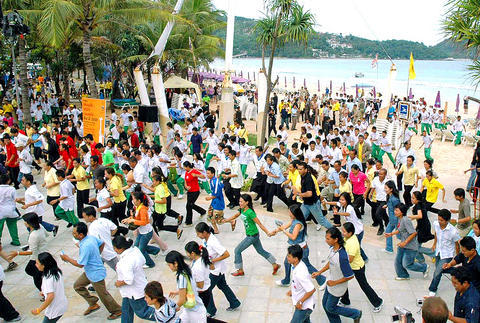 Residents and tourists stage an evacuation during a tsunami warning drill at a beach in Phuket, Thailand, yesterday.
PHOTO: AFP
Participants followed tsunami evacuation routes from the beach to the hills farther inland, including people who were acting injured and needed help to move.
"The evacuation drill is a very important measure to draw back tourists," Niran said. "When the tsunami hit the beach we lost a lot people, and then only 5 percent of tourists stayed. I believe when we have an early warning system, tourists will regain confidence."
The Dec. 26, 2004, Indian Ocean tsunami killed 8,212 people in Thailand, including foreigners vacationing at five-star resorts and local residents who mostly lived in fishing communities that line the Andaman coast.
Some 230,000 people in a dozen countries around the Indian Ocean rim were killed in the disaster.
Comments will be moderated. Keep comments relevant to the article. Remarks containing abusive and obscene language, personal attacks of any kind or promotion will be removed and the user banned. Final decision will be at the discretion of the Taipei Times.