US spy chief insists CIA does not torture suspects
ANSWERS Defending a Bush order on the questioning of terror suspects, the US National Intelligence director remained vague about harsher interrogation methods
The US spy chief would not identify what CIA interrogators are allowed to do in getting information from terror suspects, but tried to assure critics that torture is not condoned or used.
US National Intelligence Director Mike McConnell, in a rare broadcast interview on Sunday, defended a new order from US President George W. Bush that broadly outlines the limits of how suspects may be questioned in the CIA's terror interrogation program.
The executive order bans torture, cruel and inhumane treatment, sexual abuse, acts intended to denigrate a religion or other degradation "beyond the bounds of human decency."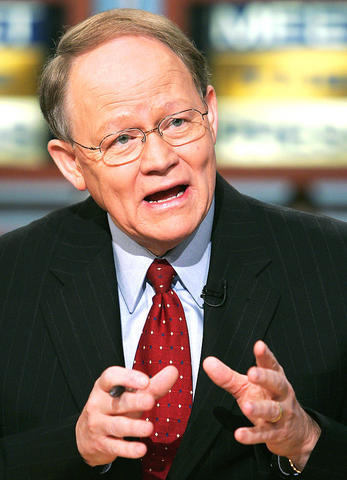 PHOTO: AP/MEET THE PRESS
It pledges that detainees will receive adequate food, water and medical care and be protected from extreme heat and cold.
It does not, however, say what techniques are permitted during harsh questioning of suspects -- a matter of debate in the US and elsewhere.
McConnell would not elaborate.
"If I announce what the specific measures are, it would aid those who want to resist those measures," McConnell said. "So I won't be too specific."
When asked if the permissible techniques would be troubling to the US people if the enemy used them against a US citizen, McConnell said: "I would not want a US citizen to go through the process. But it is not torture, and there would be no permanent damage to that citizen."
Bush's order is intended in part to quell international criticism of some of the CIA's most debated work.
In the past, CIA methods are believed to have included sleep deprivation and disorientation, exposing prisoners to uncomfortable cold or heat for long periods, stress positions and a simulated drowning technique known as waterboarding.
Without getting specific, Bush's homeland security adviser, Frances Fragos Townsend, said some techniques used earlier are no longer allowed.
"It's a different program going forward today, that's correct," she said.
Human rights groups have decried the CIA's methods and said the agency's techniques have eroded the US' reputation.
McConnell and Townsend both said Sunday that the program has undoubtedly saved lives. Townsend said the CIA program must be sustainable when looked at from both a policy standpoint and "a political point of view."
The order specifically refers to captured al-Qaeda suspects who may have information on attack plans or the whereabouts of the group's senior leaders.
"Because they believe these techniques might involve torture and they don't understand them, they tend to speak to us ... in a very candid way," McConnell said.
McConnell, who took over as spy chief in February, oversees 16 US intelligence agencies.
Last fall, Congress instructed the White House to draft an executive order as part of the Military Commissions Act, which outlined the rules for trying terrorism suspects.
The bill barred torture, rape and other war crimes that clearly would have violated the Geneva Conventions, but allowed Bush to determine -- through executive order -- whether less harsh interrogation methods can be used.
Since the CIA's five-year-old terror detention program began, 97 terror suspects are believed to have been held by the agency at locations around the world.
McConnell spoke on NBC's Meet the Press. Townsend spoke on Fox News Sunday and CNN's Late Edition.
Comments will be moderated. Keep comments relevant to the article. Remarks containing abusive and obscene language, personal attacks of any kind or promotion will be removed and the user banned. Final decision will be at the discretion of the Taipei Times.