Fifth post-Red Mosque attack grips Pakistan
Pakistani President Pervez Musharraf ruled out declaring an emergency yesterday amid a rising tide of militant attacks that have killed more than 130 people this month, officials said.
Elections due by the end of this year are regarded as crucial to Pakistan's future, and Musharraf assured newspaper editors that he wouldn't respond to growing insecurity by calling a state of emergency as "the solution lies in the democratic process."
"We are in direct confrontation with the extremist forces -- moderates versus extremists," the state news agency quoted him as saying.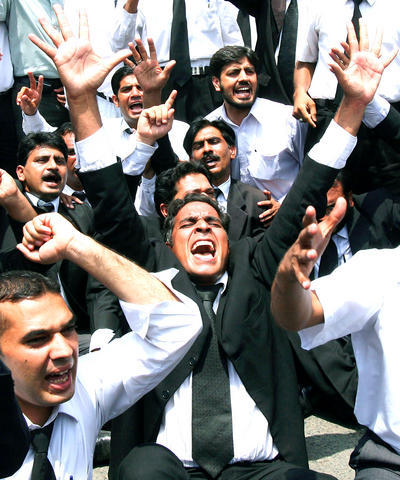 Pakistani lawyers shout slogans in Lahore yesterday as they take part in a protest against a suicide bomb attack at a rally where hundreds had gathered to hear Pakistan's suspended top judge Iftikhar Muhammad Chaudhry in Islamabad. Seventeen people were killed in the blast on Tuesday.
PHOTO: AFP
In the latest violence, 17 soldiers and as many militants were killed in two ambushes in North Waziristan on the Afghan border, a day after a suicide bomber killed 17 people in the capital, Islamabad.
The explosion simultaneously brought to a head the two major crises facing Musharraf -- his March 9 suspension of chief justice Iftikhar Muhammad Chaudhry and the sudden upsurge of extremism in the country.
security
Security has been tightened across the country, especially in Islamabad, and the minister said the government was "determined to fight extremism and terrorism and is using all resources to crush it."
He said the spate of bloodshed was believed to be linked to the storming of the pro-Taliban Red Mosque, which left over 100 people dead and to the redeployment of troops in the region along the border with Afghanistan.
The death toll from the blast rose to 17 overnight after two people died in hospital, interior ministry spokesman Brigadier Javed Cheema said.
Meanwhile, suspected militants attacked a second military convoy yesterday in northwestern Pakistan, detonating a remote-control bomb and opening fire to kill 16 soldiers and wound 14 others, the army spokesman said.
ASSAULT
The assault, and an earlier one that wounded as many as seven people, occurred in North Waziristan, where militants have stepped up attacks in recent days, said spokesman Major General Waheed Arshad.
The ambushers first detonated a roadside bomb, then fired AK-47 assault rifles from nearby bushes at the convoy, about 40km west of North Waziristan's main town of Miran Shah, said a senior military official.
Earlier, an explosion hit another convoy along the road that links Miran Shah with the nearby city of Bannu.
Arshad said one soldier and five or six civilians were wounded, but he had no further details on the bombing.
Troops opened fire after the bombing near the convoy, wounding a 15-year-old boy, an intelligence official said.
Militants have stepped up attacks in North Waziristan in recent days. A suicide bomber on Tuesday struck a security check post in the same area, killing three soldiers.
Separately, an explosion ripped through the entrance to the home of a pro-government tribal elder but caused no casualties.
The official blamed militants for the explosion.
Comments will be moderated. Keep comments relevant to the article. Remarks containing abusive and obscene language, personal attacks of any kind or promotion will be removed and the user banned. Final decision will be at the discretion of the Taipei Times.