Gore intent on delivering climate protection message
Al Gore tried to rein in his adrenaline as his train churned between the two North American venues of his Live Earth concerts on Saturday.
Gore, the former US vice president and environmental activist, rattled off the latest details of companion concerts on six other continents before catching himself.
"I'm just so filled with enthusiasm and energy, I'm not letting you ask questions," Gore said in an interview.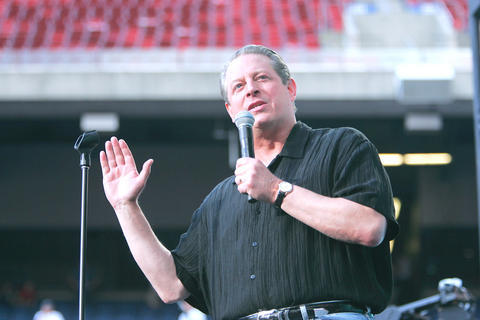 Al Gore delivers a speech during the Live Earth concert at Giants Stadium on Saturday in East Rutherford, New Jersey. The concert is part of a 24-hour series spanning seven continents to raise awareness of global warming.
PHOTO: AP
Gore kicked off the US leg of the worldwide concerts earlier on Saturday in Washington and was keeping track of the Giants Stadium venue on his laptop as the Amtrak train headed toward New Jersey.
While clearly one of the main attractions for the worldwide concerts, Gore tried to keep too much attention from being paid to his role.
"That's nice, but it's not about me," he said. "It's about the message. I think everybody understands that."
Gore turned back criticism that the concert series lacked immediate goals beyond generally raising awareness about climate change. The concerts are just the first step in a three-year public relations campaign, he said.
"I've been trying to deliver this message for 30 years, and I know that it doesn't take in just one delivery," he said. "You've got to keep going."
The concerts will be followed by a global advertising campaign, with a particular focus on the US.
"The planet doesn't have a PR agent," he said. "But now it will, because the Alliance for Climate Protection is going to use the modern techniques of messaging to get the scientific evidence in front of people all over the world."
Gore said he plans to return to giving his slideshows and training others to give the presentation about global warming after the concert series is complete.
"And if I can figure out some other way to get this message to more people more persuasively and more quickly, then I'll do that too," he said.
Gore laughed off a question about whether that could include a presidential bid and repeated his mantra: "I have no plans to be a candidate."
"I really don't," he emphasized. But he continues to not completely rule out a bid.
Gore, whose slide show on global warming was the subject of the Academy Award-winning documentary An Inconvenient Truth, said the presidency alone can't necessarily bring about the changes he's calling for.
"I was in the White House for eight years and I saw the limitations of even the power of the executive branch when the people and their elected representatives in the Congress were not ready to contemplate the big changes that are necessary," he said.
"This is the rare challenge that really has to come from the grass roots up," he said.
And yet Gore said he understands that not everyone at the concerts would immediately buy into the climate change cause.
"It's great to just enjoy the music," he said "But I'm hoping, of course, that while listening to the music and enjoying the films, that they will be open to the message."
Asked whether the political campaign-like atmosphere around his travels doesn't get the old juices flowing again, Gore paused for a moment, smiled, and then firmly said: "No."
"I'm involved in a different kind of campaign, to deliver this message to people all over the US and all over the world," he said.
"We have to be prepared to keep going for long enough to get this world across this tipping point."
Comments will be moderated. Keep comments relevant to the article. Remarks containing abusive and obscene language, personal attacks of any kind or promotion will be removed and the user banned. Final decision will be at the discretion of the Taipei Times.