FEATURE: Political nature of Olympics forces changes in Beijing
Child labor. Forced abortions. Religious persecution. Jailed dissidents. Cultural cleansing in Tibet and ethnic cleansing in Africa.
For China, the run-up to next summer's Olympics in Beijing is looking like a marathon through a human-rights minefield.
It's been decades since the games focused strictly on which athletes were faster or stronger. But the Olympics have not been this politicized since the US-Soviet boycotts of the 1980s.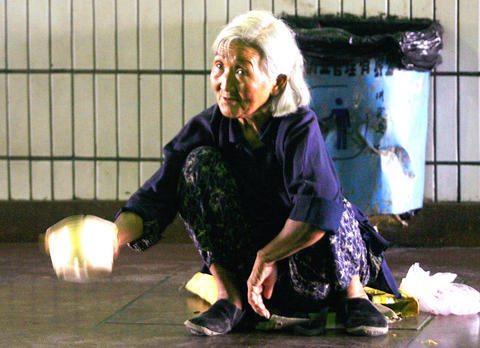 An elderly woman begs for money in one of Beijing's subways yesterday. Beijing plans to start clearing beggars and other ``uncivilized'' elements from major city subway stations next week as it continues sprucing up for next year's Olympics.
PHOTO: AFP
China sees a chance to wow the world as it hosts its first event watched by billions of people. The increasingly image-conscious country will measure success both with medals and whether the 2008 Olympics burnish its rising star. That gives activists, governments and celebrities with a cause an opportunity to influence policies they've long assailed.
The games raise a difficult question for a government famously dismissive of outside pressure: What accommodations might be made without losing face?
Even China's sharpest critics do not anticipate major shifts before the games begin Aug. 8, 2008. Cosmetic changes are possible on issues such as free speech and labor conditions. Concessions on Tibetan autonomy or the Falun Gong spiritual movement are off the table.
"Everyone I've talked to about China policy is focused on the Olympics," said Michael Green, a former Asia specialist in President George W. Bush's administration, now with the Center for Strategic and International Studies. "Beijing knows this and I think they are trying to take minimal steps now to not have to fundamentally change their policies in 2008."
China insists its approach to free speech and other rights held sacred in the West fits its own culture. Falun Gong is a cult, Beijing says, and Tibet has long been under Chinese sway.
One issue China has budged on is Darfur, the region in Sudan where militias allegedly backed by the government have slaughtered hundreds of thousands of civilians. China is the African nation's diplomatic patron and its biggest trading partner.
After resisting calls for intervention, China dispatched a special envoy and lobbied Sudan to accept a UN peacekeeping force.
Observers disagree whether those moves were motivated by external pressure or self-interest, pointing out that China continues to shield the regime from UN economic sanctions.
In the campaign to save Darfur, Hollywood is leading the charge.
Opening ceremonies consultant Steven Spielberg urged Chinese President Hu Jintao to change Sudan policy after the director was publicly branded a collaborator by Mia Farrow. The actress and UN goodwill ambassador calls these the "genocide Olympics" and last month announced an Olympic-style torch relay through sites of atrocities.
"Whatever their motivation is, [the Chinese] can, I think, be channeled to being a much more constructive actor going forward," Darfur activist John Prendergast said.
There are other signs that China is attuned to international opinion the same way a host worries whether guests at a housewarming get the right impression.
The past month brought two gestures. For the first time, the mother of a man who was killed during the 1989 Tiananmen Square crackdown was allowed to publicly mark the anniversary. And Olympic organizers launched a child-labor investigation after it was discovered that four official souvenir makers were using workers as young as 12.
Several labor advocates do not expect fundamental reforms in a country where galloping economic expansion is a priority which depends on a cheap, pliable work force.
"There are a handful of people who are trying to politicize the Olympic Games," Foreign Minister Yang Jiechi (楊潔箎) said. "This is against the spirit of the games."
It is more than a handful -- it's just about everyone with a gripe against China. Most have modest goals, while other groups do not voice specific hopes, but still see opportunity.
Comments will be moderated. Keep comments relevant to the article. Remarks containing abusive and obscene language, personal attacks of any kind or promotion will be removed and the user banned. Final decision will be at the discretion of the Taipei Times.