Basque bomb scare evacuates Ibiza airport
A bomb scare forced the evacuation Saturday of the airport on the Spanish Mediterranean holiday island of Ibiza after a warning attributed to Basque separatist organization ETA.
Police said later that the discovery of a suspect package, which caused more than 4,000 people to be evacuated for "security reasons," was a false alarm.
They also dismissed reports of a controlled explosion of the package.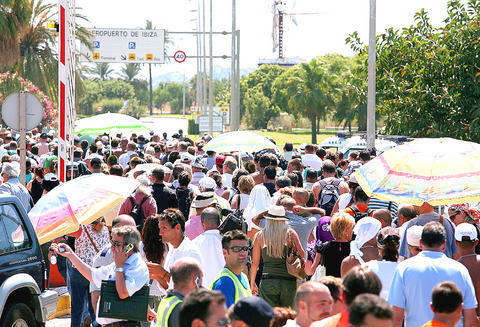 People use umbrellas to protect themselves from the sun during an evacuation from the Ibiza airport by police acting on a telephoned bomb threat on Ibiza, Spain, on Saturday. Police evacuated the airport and later used a controlled explosion to detonate a suspicious package.
PHOTO: AP
They said the "explosion" heard near the airport was in fact the "noise" from a robot used by security officials to defuse explosives from a distance.
A suspect package and a backpack were examined but were found to be harmless, police said.
Earlier, the Europa Press news agency cited witnesses saying that an explosion of "medium strength" rocked Ibiza airport.
Spain has been on the alert since ETA, whose campaign for independence in the northern Basque region has claimed more than 800 lives over the last four decades, declared an end to a unilateral ceasefire on June 5.
The Basque daily Gara, the usual channel for claims by the armed separatist group, said on its Web site it had received a call warning of an "explosive device" at the airport.
Saturday was the first day of the busy summer holiday season and roughly 300 flights were scheduled to arrive or depart from Ibiza that day.
At least 13,000 passengers were affected by the bomb scare, Spanish Airports Management Co said.
The airport, which handled more than 4.4 million passengers last year, many of them foreign holidaymakers, reopened more than three hours after it was closed, and air traffic began to return to normal.
ETA had called a "permanent ceasefire" in March last year as Spain's Socialist government slowly moved towards talks on a negotiated settlement.
Despite the truce, ETA exploded a bomb in a multi-story parking lot at Madrid airport on Dec. 30 last year.
Two Ecuadoran men were killed in the bombing, the group's first fatal attack in three-and-a-half years.
On Wednesday, Spanish media cited a police report as saying that security officials do not believe ETA will return to a campaign of killings following the end of the ceasefire, but will focus on attacks that sow fear among the public.
Last week, Spanish police found a car filled with 130kg of explosives near the Portuguese border. Police officials said they believed ETA was seeking to transport to the southern region of Andalusia for use in a bombing campaign.
Ibiza, in the Balearic Islands, attracts thousands of holidaymakers annually, the majority of them coming from Britain, Germany and France.
Comments will be moderated. Keep comments relevant to the article. Remarks containing abusive and obscene language, personal attacks of any kind or promotion will be removed and the user banned. Final decision will be at the discretion of the Taipei Times.