Israeli Cabinet lifts freeze on Palestinian tax funds
Israeli Prime Minister Ehud Olmert's Cabinet yesterday unfroze millions of US dollars in Palestinian tax money as part of a package of goodwill gestures meant to shore up Palestinian President Mahmoud Abbas in his bitter battle with Islamic Hamas militants.
The Cabinet approved Olmert's proposal ahead of his meeting in Egypt today with Abbas, Egyptian President Hosni Mubarak and King Abdullah II of Jordan.
The summit is designed as a high-profile display of support for the Palestinian president against his Hamas rivals, who seized control of the Gaza Strip in a brutal rout of Abbas' Fatah movement earlier this month. The infighting has left the Palestinians with two governments -- Abbas' new government in the West Bank and the Hamas rulers in Gaza.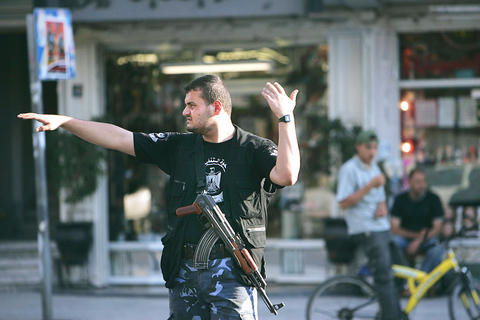 A Hamas militant directs traffic in Gaza City, Gaza Strip, on Saturday. Gazans are trying to go about their normal lives one week after the Islamic militant group wrested control of the Gaza Strip.
PHOTO: AP
The proposal approved at yesterday's Cabinet meeting was a gradual release of some US$550 million in tax money that Israel has withheld from the Palestinians since Hamas swept Palestinian parliamentary elections in January last year.
"We raised at today's Cabinet meeting a proposal to unfreeze funds we have been holding for a long period, Palestinian funds, in order to support in a phased process the new Palestinian government, which is not a Hamas government," Olmert said.
The money -- mostly customs duties that Israel collects on behalf of the Palestinians -- has been withheld in an unsuccessful bid to pressure Hamas to recognize Israel's right to exist and renounce violence. Without the money, the Palestinian government has been unable to pay workers' salaries.
The Cabinet also was expected to discuss the removal of some of the hundreds of roadblocks Israel has erected throughout the West Bank.
Similar gestures have been weighed in the past and then, as now, Israel will demand in return that Abbas confront militants -- something he had been reluctant to do before Hamas rolled over Fatah security forces and wrested power in Gaza.
Since then, Abbas has acted with unprecedented force, expelling Hamas from its coalition government with his Fatah movement, setting up an emergency Cabinet and embarking on a crackdown on the Islamic group that has included arrests of hundreds of gunmen in the West Bank and a plan to dry up its funding.
Meanwhile, Palestinian intelligence chief Tawfiq al-Tirawi said yesterday that Iran played a "big role" in Hamas's seizure of Gaza.
"According to our information, Iran has played a big role in what happened in Gaza. Dozens of members of Hamas have been trained in Iran and Hamas smuggled in weapons through tunnels not to fight Israel but against the Palestinian Authority," al-Tirawi said.
"The whole plan has been carried out in coordination with Iran and Iran has been informed of every step," he said.
Abbas previously accused "foreign elements from the region" of orchestrating Hamas's bloody takeover, but it was the first time that a senior official explicitly blamed Iran.
Last week, Egyptian Foreign Minister Ahmed Abul Gheit said that Iran had encouraged the Palestinian Islamist movement to seize the Gaza Strip.
Comments will be moderated. Keep comments relevant to the article. Remarks containing abusive and obscene language, personal attacks of any kind or promotion will be removed and the user banned. Final decision will be at the discretion of the Taipei Times.