Whale slaughtered off Alaskan coast survived hunting party a century ago
A 45-tonne bowhead whale caught off the Alaskan coast last month had a weapon fragment embedded in its neck that showed it survived a similar hunt -- more than a century ago.
Embedded deep under its blubber was a 12.7cm projectile that has given researchers insight into the whale's age, estimated between 115 and 130 years old.
"No other finding has been this precise," said John Bockstoce, an adjunct curator of the New Bedford Whaling Museum in Massachusetts.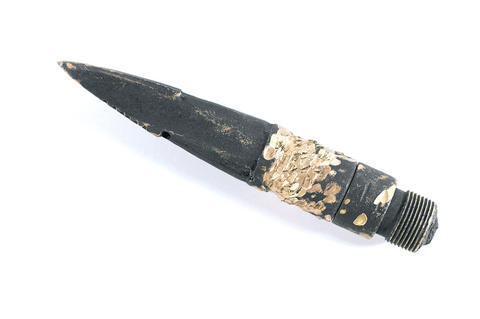 This photo released by the New Bedford Whaling Museum shows a bomb lance fragment, patented in 1879, that was removed from the neck of a bowhead whale captured at Barrow, Alaska, last month. The body of the bomb lance was not recovered. The shiny scars are the result of a chain saw cut.
PHOTO: AP
Calculating a whale's age can be difficult and is usually gauged by amino acids in the eye lenses. It is rare to find one that has lived more than a century, but experts say the oldest were close to 200 years old.
The bomb lance fragment, lodged between the whale's neck and shoulder blade, was likely manufactured in New Bedford, Massachusetts, a major whaling center at that time.
The device exploded and probably injured the whale, Bockstoce said.
"It probably hurt the whale, or annoyed him, but it hit him in a non-lethal place," he said. "He couldn't have been that bothered if he lived for another 100 years."
The whale, which would have been born in about 1877, harkens back to a far different era. Bockstoce said he was impressed by notches carved into the end of the arrow used in the 19th century hunt, a traditional way for the Alaskan hunters to indicate their ownership of the whale.
The 15m male whale died when it was shot with a similar projectile last month and the older device was found buried beneath its blubber as hunters carved it with a chainsaw for harvesting.
After it is analyzed, the fragment will be displayed at the Inupiat Heritage Center in Barrow, Alaska.
Comments will be moderated. Keep comments relevant to the article. Remarks containing abusive and obscene language, personal attacks of any kind or promotion will be removed and the user banned. Final decision will be at the discretion of the Taipei Times.