Healthy-looking Castro gives interview
A healthy-looking Cuban President Fidel Castro hinted in his first interview in 10 months that his recovery was still incomplete, leaving unanswered the big question of when he might return to power.
Castro, 80, who underwent surgery last July, appeared relaxed as he sat dressed in a red, white and blue tracksuit chatting with an interviewer on state-controlled Cuban TV.
"A human being's health is always facing threats, lurking dangers, but we've been doing all the things that needed to be done," Castro said in Tuesday's interview.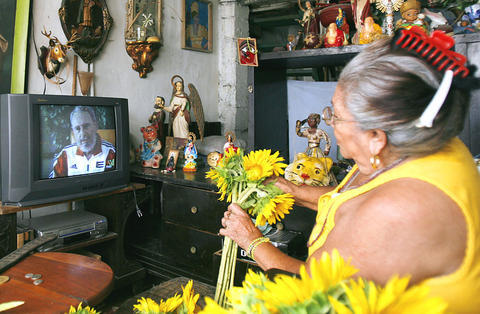 A woman prepares a bouquet of sunflowers as she watches a preview of an interview of Cuban President Fidel Castro on TV in Havana on Tuesday. Cuban TV aired an almost hour-long interview with Castro on Tuesday night.
PHOTO: AP
"All I can tell my fellow countrymen is what I've already said, that I'm now doing what I have to do, nothing else. There's no secret. I can't put it more clearly," he said.
Castro underwent gastrointestinal surgery and handed over power to his brother Raul on July 31.
The veteran leader, who turns 81 in August, said his health was being monitored closely, even by the US.
"They can check out anybody coming into the house with their satellites," Castro said.
"There's no state secret," he insisted, adding that he was eating "a much more balanced" diet.
A day after handing over power to his brother, Castro had said his health was a "state secret," triggering months of rumors about his return to power and Cuba's possible transition to a more open society.
Earlier this week, official media said Castro's interview would offer "other issues of interest," fueling speculation that he could announce his return to power.
However, Castro left unanswered the question on the mind of every Cuban, including exiles in Florida, letting lingering doubts persist about his plans for the future.
US Spanish-speaking television stations that were broadcasting Castro's interview live, broke off a half hour into the program after it became apparent the leadership question would not be addressed.
Some Cubans, however, saw his appearance as a sign that Castro was getting back to his old self.
"Ave Maria! He looks good. He's stronger and livelier," said Merida Noa, 79, who watched the 52-minute interview with her sister Sinesia, 83, in Old Havana.
"We hadn't seen him like this since the crisis began," she said. "Now we can say that there is a commander for a while."
"He is mentally fit, loquacious and coherent," said Ignacio Iglesias, 68, who watched the broadcast in a neighbor's home. "He looks stronger physically and it makes me very happy."
US physicians who watched the interview from Miami said Castro appeared to have recovered from the operation.
Castro was pale and his voice hoarse, "as though he had endured for some time the insertion of a breathing tube," said Javier Parra of the University of Miami medical school.
"However, he has recovered, which is characteristic of that," he said.
The pre-recorded interview with "Roundtable" anchorman Randy Alonso, Castro's first since he dropped from public view, dealt mainly with the hospital visit last weekend by Vietnamese Communist Party leader Nong Duc Manh.
The Cuban leader, who has not appeared in public since last July, has only been seen in photographs and short videos and heard on the radio.
Comments will be moderated. Keep comments relevant to the article. Remarks containing abusive and obscene language, personal attacks of any kind or promotion will be removed and the user banned. Final decision will be at the discretion of the Taipei Times.