Milan police, Chinese residents clash
Riot police clashed with hundreds of Chinese merchants in Milan on Thursday after scuffles broke out over traffic controls and a parking ticket in the city's busy Chinatown.
About 15 people were injured during the clashes and two cars were destroyed as protesters threw plastic bottles and trash cans at police armed with batons.
It was not clear how many protesters were injured, but TV footage showed several wounded.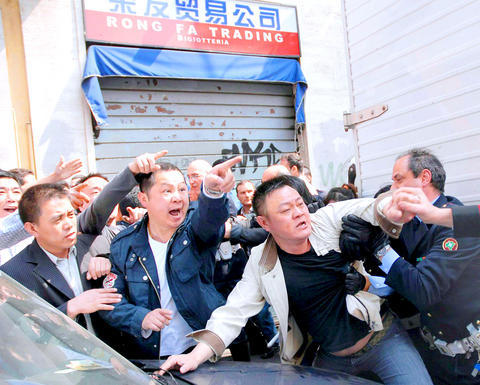 Chinese immigrants struggle with Italian police during clashes in Milan's Chinatown on Thursday sparked by protests over a parking ticket and traffic conditions.
PHOTO: EPA
A shopkeeper of Chinese origin was loudly protesting a fine of 40 euros (US$54) for parking illegally when a crowd gathered that swelled to around 350, according to the all-news channel Sky TG24.
Waving Chinese flags and placards reading "Stop violence and abuse against the Chinese community," at least 400 merchants and residents later staged a sit-in on the neighborhood's main street, bringing traffic to a standstill.
"You just want to send away the Chinese population," one protester shouted at a police officer. "Where is Italy's humanity?"
Officials said the protest started when traffic police, who want to tighten control of commercial traffic in the area full of clothing wholesalers, fined a driver and took away his license because he was carrying merchant goods in a private car.
"It is not right for a violation of road regulations to cause this," Milan Mayor Letizia Moratti told a news conference. "This cannot be justified."
Protesters complained of police violence on Thursday.
Residents have repeatedly complained about the noise and traffic, urging officials to find a more suitable location for the wholesalers.
China's consul in Mila, Zhang Limin, said the clash was not an isolated event.
"We've been under heavy harassment for two months now. I'm here to defend the interests of Chinese shopkeepers who pay their taxes and follow the law," the ANSA news agency quoted Zhang as saying.
Statistics show 12,000 Chinese nationals reside legally in Milan.
Comments will be moderated. Keep comments relevant to the article. Remarks containing abusive and obscene language, personal attacks of any kind or promotion will be removed and the user banned. Final decision will be at the discretion of the Taipei Times.