Wen makes trip to Japan, speaks of past and future
TOKYO During the first address by a Chinese leader in 22 years, Wen Jiabao told the parliament not to forget the past and that his people `must foster friendship'
Chinese Premier Wen Jiabao (溫家寶)offered Japan the hand of friendship yesterday in a call to put aside bitter memories of the past that have hobbled relations between the two Asian giants.
In the first address for 22 years by a Chinese leader to the parliament in Tokyo, Wen urged Japan not to forget its past but acknowledged its people had also been the victims of war.
Earlier, he took his fence-mending visit to Japan to the streets, going for a jog around a Tokyo park and chatting with members of the public.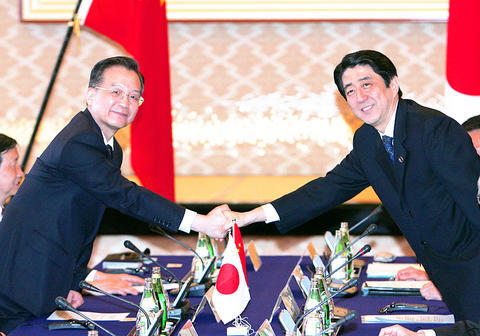 Chinese Premier Wen Jiabao, left, and Japanese Prime Minister Shinzo Abe shake hands as they start high-level talks aimed at building relations in Tokyo yesterday. Wen arrived in Japan on Wednesday as the two countries struggle to reverse the deterioration of ties in recent years, partly caused by disagreements about the past.
PHOTO: AP
In parliament, the flags of the two countries mounted on the podium behind, Wen called on the two powers to look to the future.
"The Chinese public must foster friendship with Japanese people," he said, and laid the blame for Japan's invasion and 1931-1945 occupation of China -- a running sore for many Chinese -- on a "limited number" of wartime leaders.
"As the Chinese leaders of the past generations have said, the responsibility for the war of aggression should rest with a limited number of militarists."
"The general Japanese public were also victims of the war," added Wen, who is making the first visit here by a Chinese leader in seven years.
Relations between Asia's two largest economies were badly strained during the 2001-2006 premiership of Japan's Junichiro Koizumi, who repeatedly visited a war shrine that Beijing and Seoul associate with imperialism.
Just days after Koizumi left office, Prime Minister Shinzo Abe -- who made his career as a hardliner on emotive history issues -- travelled to Beijing in October.
Wen, who met Abe on Wednesday for dinner of sushi and Japanese beef, said that while the Japanese premier's visit to Beijing broke the ice, he aimed to "melt" the ice with this trip to Tokyo.
But in a possible warning to Abe not to visit the Yasukuni shrine, Wen said he expected Japan to continue to show regret for the past.
"Japanese leaders have expressed their views on history time and time again. They admitted the invasion and expressed their deep regret and apologies to the countries that fell victims," he said.
"The Chinese government and the public appreciate that profoundly. We hope Japan will turn the expression into action as promised."
Earlier, wearing black sportswear bearing the logos of next year's Beijing Olympics, the 64-year-old Wen jogged around a Tokyo park, chatted with members of the public and showed off a few tai chi moves.
"What do you do for a living?" Wen asked one woman through a translator, as security guards looked on.
"I am a barber," she replied in Japanese.
"I am Wen Jiabao," he said.
Despite tensions over their past, China and Japan have become increasingly economically interlinked, with Japan counting on its giant neighbor as a vital source both for workers and for middle-class consumers.
Wen later attended a lunch with Japanese business leaders where he pledged to keep working to fight counterfeiting -- a major concern for investors in China's booming economy.
Takehiko Yamamoto, a professor of international politics at Tokyo's Waseda University, said Wen's visit showed that the two countries saw mutual interests in improving ties.
But he warned that "the gap on their recognition of history is still far apart."
"Any visit to Yasukuni by Abe would be explosive and easily blow relations away," he said.
China, the only Asian nation with veto power on the UN Security Council, in 2005 cited the shrine dispute in scuttling Japan's cherished bid for its own permanent seat on the world body.
Wen appeared to moderate that stance, saying China "will forever remember" Japan's aid since the war and that he understood "Japan's desire to play a yet greater role" in the world.
"China-Japan relations have come under rains and winds," Wen said.
"But the foundation of the friendly ties between the Chinese and Japanese people are as unshakeable as Mount Tai and Mount Fuji."
Editorial: Same old tune, still off-key
Comments will be moderated. Keep comments relevant to the article. Remarks containing abusive and obscene language, personal attacks of any kind or promotion will be removed and the user banned. Final decision will be at the discretion of the Taipei Times.