Infamous US feud may be explained by rare disease
DEADLY HISTORY The disputes gained notoriety in 1878, when 'Old Randal' McCoy accused a Hatfield of stealing a pig. The following hostilities left at least a dozen dead
The most infamous feud in US folklore, the long-running battle between the Hatfields and the McCoys, may be partly explained by a rare, inherited disease that can lead to hair-trigger rage and violent outbursts.
Dozens of McCoy descendants apparently have the disease, which causes high blood pressure, racing hearts, severe headaches and too much adrenaline and other "fight or flight" stress hormones.
The Hatfields and McCoys have a storied and deadly history dating to US Civil War times in the 1860s. Their generations of fighting over land, timber rights and even a pig are the subject of dozens of books, songs and countless jokes. Unfortunately for rural Appalachia, the mountain area stretching from southern New York State to northern Mississippi, the feud is one of its greatest sources of fame.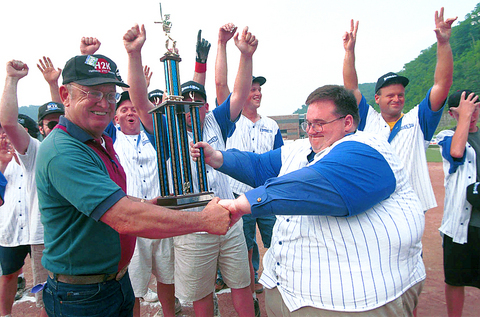 Bo McCoy, right, one of the organizers of the Hatfield-McCoy Reunion, accepts a trophy on behalf of the McCoy team after defeating the Hatfields 10-1 in a softball game on June 10, 2000, in Pikeville, Kentucky.
PHOTO: AP
No one blames the whole feud on the disease, but doctors say it could help explain some of the clan's notorious behavior.
"This condition can certainly make anybody short-tempered, and if they are prone because of their personality, it can add fuel to the fire," said Revi Mathew, a Vanderbilt University endocrinologist treating one of the family members.
Von Hippel-Lindau disease, which afflicts many family members, can cause tumors in the eyes, ears, pancreas, kidney, brain and spine. Roughly three-fourths of the affected McCoys have pheochromocytomas -- tumors of the adrenal gland.
The small, orange adrenal gland sits atop each kidney and makes adrenaline and substances called catecholamines. Too much can cause high blood pressure, pounding headaches, nausea and vomiting, heart palpitations and facial flushing. There is no cure for the disease, but removing the tumors before they turn cancerous can improve survival.
One doctor who had researched the family for decades called them the "McC kindred" in a 1998 medical journal article tracing the disease through four generations.
"He said something about us never being able to get insurance" if the full family name was used, said Rita Reynolds, a Bristol, Tennessee, woman with the disease. She says she is a McCoy descendant and has documents from the doctor showing his work on her family.
She is speaking up now so distant relatives might realize their risk and get help before the condition proves fatal, as it did to many of her ancestors.
Back then, "we didn't even know this existed," she said. "They just up and died."
Still, many are dubious that this condition had much of a role in the bitter feud with the Hatfields, which played out in the hill country of eastern Kentucky and West Virginia for decades.
Some say the feud dates to Civil War days, when some members of the families took opposite sides. It grew into disputes over timber rights and land in the 1870s, and gained more notoriety in 1878, when Randolph or "Old Randal" McCoy accused a Hatfield of stealing one of his pigs. The hostilities left at least a dozen dead.
"The McCoy temperament is legendary. Whether or not we can blame it on genes, I don't know," said Ron McCoy, 43, of Durham, North Carolina, one of the organizers of the annual Hatfield-McCoy reunion.
"There are a lot of underpinnings that are probably a more legitimate source of conflict. There was a lot of inter-marrying" that could have played havoc with the gene pool, he conceded.
Comments will be moderated. Keep comments relevant to the article. Remarks containing abusive and obscene language, personal attacks of any kind or promotion will be removed and the user banned. Final decision will be at the discretion of the Taipei Times.