Pope John Paul II on fast track to possible sainthood
Catholic Church officials yesterday reached a key milestone in the drive to make Pope John Paul II a saint, closing an investigation into his life and handing over a dossier detailing the purported miraculous cure of a nun who prayed to him.
The events come two years to the day after John Paul died -- a remarkably fast pace that underscores the Church's keen interest in beatifying John Paul and responding to the calls of "Santo Subito" or "Sainthood Immediately!" that erupted after his death.
Pope Benedict XVI put John Paul on the fast track for possible sainthood just weeks after his April 2, 2005, death, when he waived the customary five-year waiting period and allowed the investigation into John Paul's virtues to begin immediately. Such a waiver had only been granted once before, to Mother Teresa.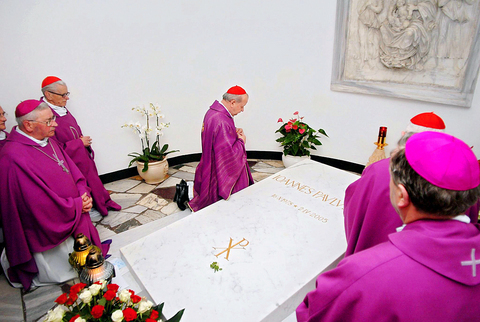 Cardinal Stanislaw Dziwisz, center, prays over the crypt of the late Pope John Paul II on the second anniversary of his death in the Vatican yesterday.
PHOTO: EPA
Benedict was not scheduled to attend yesterday's ceremony at the St. John Lateran basilica to close the investigation into John Paul's life -- a key step in the process of beatification and canonization. He was, however, scheduled to celebrate a Mass later in the day at St. Peter's Basilica to mark the second anniversary of John Paul's death.
Monsignor Slawomir Oder, the Polish prelate who is spearheading the beatification cause, recently acknowledged that his probe was completed unusually quickly, considering the vast amount of material that had to be collected.
About 130 people were interviewed, historians gathered books about John Paul from libraries worldwide and theologians studied his private writings to determine if he ever wrote anything heretical.
Critics were also heard from, although Oder said the vast majority of the criticism was not against John Paul as a person but against some aspect of his teachings or church doctrine.
"To tell the truth, this doesn't weigh heavily on the merit of the process itself," he said.
Such complicated investigations often take decades or centuries, not a matter of months.
"But speed doesn't mean a lack of seriousness," Oder said. "Aside from the dispensation of the delay to start the process, we have not sought any other waiver."
Indeed, he dismissed renewed calls by John Paul's longtime private secretary, Cardinal Stanislaw Dziwisz, to proceed to canonization immediately, saying the Church's procedures must be respected.
Comments will be moderated. Keep comments relevant to the article. Remarks containing abusive and obscene language, personal attacks of any kind or promotion will be removed and the user banned. Final decision will be at the discretion of the Taipei Times.