For Brazilians, Carnival is sensual
The very idea that US soldiers on leave from Iraq would look upon Rio's carnival as a sex party has Brazilians outraged.
A report in Britain's Guardian newspaper that US soldiers are looking to Rio for rest and recreation -- especially sex tourism -- prompted many Brazilians to say that they have it all wrong.
Despite all the jiggling, sweating flesh on display on Saturday as crowds of dancers pressed together in the first full day of carnival celebrations, Brazilians say the spectacle is not all about sex. They see it as a celebration of the body, closer in the spirit to the Olympics than the strip bar.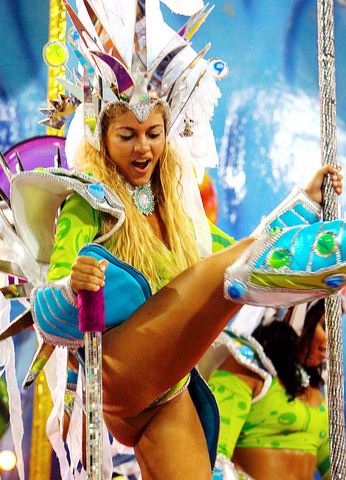 A dancer performs during a parade of the samba schools at the Rio de Janeiro Carnival in Brazil on Saturday.
PHOTO: EPA
While US soldiers could hardly be seen in the crowds, Brazilians complain about those who come mainly for sex tourism, and opportunities seemed to abound along Copacabana beach.
"If they came here from Iraq they wouldn't go back!" said Brian Simon, 43, an ex-Marine from New Jersey who was surrounded by barely dressed women as he drank at an outdoor bar.
SENSUALITY
Brazilians say nakedness at carnival is about sensuality. Yes, sexual imagery abounds in the samba schools, and thousands of revelers dance skin-to-skin on the sidelines. But nudity carries a different connotation in Brazil than in many other countries.
"Here, nakedness doesn't only lead to sexuality, it leads you to aesthetic appreciation. A woman is dancing but it's not pornographic. It's a collective experience of reconsidering bodies, like at the Olympic Games," said Roberto Da Matta, a retired University of Notre Dame sociology professor and author of Carnivals, Rogues and Heroes.
Da Matta says that his granddaughters watch the nearly nude samba dancers in TV ads during the run-up to carnival, grading them like judges at a gymnastic competition, or in the same way Rio's Samba parade is judged.
The annual Samba parade, which takes place on Sunday and Monday nights, is the high point of the festival. Lavish floats and glitter-covered dancers are broadcast live across the nation, and fans root for their favorite samba groups with a passion normally reserved for soccer teams.
This year, the parade features 13 samba groups, each producing 80-minute spectacles costing upward of US$1 million.
Total nudity is prohibited and a less-than-perfect score from the exacting panel of judges can doom a group's chances.
On Saturday, however, the carnival was in the streets.
A crowd estimated at 300,000 people turned out to see the traditional Bola Preta brass band parade in the city's downtown district. Later in the day tens of thousands of people clogged the streets of Ipanema, falling in behind the over-the-top Banda de Ipanema, a favorite of the gay community and outlandish transvestites.
LIMITS
But there are still limits in this predominantly Roman Catholic country.
Toplessness is still considered taboo on the city's beaches, although many people came out to greet Pope John Paul II in bikinis and thongs some years back. And in 2005, the Rio state government banned postcards showing bikini-clad women in photo montages or outside natural beach settings.
"Showing women in skimpy outfits, usually from the rear, is a disservice to our country," the law's sponsor, state Senator Alice Tamborindeguy, said at the time.
Still, most Brazilians do not duck the issue of sex.
The government distributes millions of free condoms at carnival time and talks frankly about sexually transmitted diseases. Experts credit the Brazilians' openness about their bodies and sex for helping to contain the AIDS epidemic in South America's largest country.
"I'm entirely comfortable dressed like this," said this year's Carnival Queen Jacqueline Faria, 23, wearing little more than a rhinestone encrusted push-up bra and a sequin spotted see-through skirt revealing a tiny G-string.
"This is Rio de Janeiro, it's all about the beach and sun. We don't wear many clothes here at anytime during the year," Faria explains. "But Rio de Janeiro isn't just about bum bum. It has lots of other culture."
Comments will be moderated. Keep comments relevant to the article. Remarks containing abusive and obscene language, personal attacks of any kind or promotion will be removed and the user banned. Final decision will be at the discretion of the Taipei Times.