Pyongyang demands energy aid
RISING FRUSTRATION Comments by Japanese and Russian envoys to the six-nation talks pointed to North Korea's requests for energy aid as the heart of the disagreement
North Korean demands for large amounts of energy aid bedeviled negotiators trying to reach a deal on dismantling the North's nuclear programs, as plodding negotiations entered a fourth day yesterday.
Envoys at the six-nation talks in Beijing have shown rising frustration at North Korea's intransigence, saying negotiations over the past two days were hanging on a single issue.
Japan's Kenichiro Sasae said the sole sticking point was how much energy assistance North Korea should be given in return for taking steps to disarm.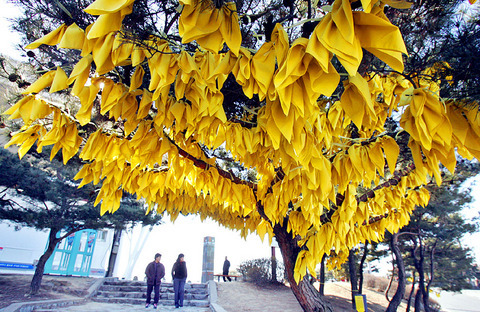 Yellow handkerchiefs are displayed on a pine tree to publicize the plight of South Koreans believed kidnapped by North Korea at the Imjingak Pavilion, near the demilitarized zone of Panmunjom, yesterday. International talks seeking to persuade North Korea to dismantle its nuclear weapons entered a fourth day yesterday.
PHOTO: AP
"North Korea has excessive expectations on energy aid," Sasae told reporters.
"This is the problem, and unless they change their thinking, an agreement will be difficult," he said.
In an attempt to move forward, the negotiators -- from the US, China, Russia and South Korea as well as Japan and North Korea -- held a series of two-way meetings at a Chinese government guesthouse.
Negotiators hoped to get North Korea to take the first concrete steps toward dismantling its nuclear programs since talks began in 2003. That task was made more urgent after Pyongyang detonated a nuclear device in October, giving North Korea a sense, analysts have said, that it would have greater leverage at the talks.
A rough outline of a deal was reached 18 months ago: In return for giving up its nuclear programs, North Korea would receive energy assistance for its listless economy and guarantees that its security would not be undermined.
But the exact steps to be taken by all parties, and how and when they would be phased in, have remained subject to negotiation.
US Assistant Secretary of State Christopher Hill refused to indicate which issue was dragging out the negotiations but said envoys should try to bypass the sticking point, leaving it for follow-up talks.
"We've got this one issue, and we've got to wrap this up," Hill told reporters yesterday.
He reiterated that the dispute centered on a single paragraph in China's written draft agreement.
South Korean Assistant Foreign Minister Chun Yung-woo struck a more pessimistic note.
"It's difficult to expect to see a breakthrough today," he said before yesterday's meetings.
While comments by Japan's Sasae and Russian envoy Alexander Lusyukov pointed to energy aid as the heart of the disagreement, Chun disputed South Korean and Japanese media reports that North Korea was demanding 2 million kilowatts in electricity, a long-standing demand by Pyongyang.
"For 13 years, whenever there were de-nuclearization talks, North Korea has demanded 2 million kilowatts of electricity," Chun said.
"This is the first time that North Korea has not made such demands," he added.
Energy concerns have been a key part of North Korean compensation demands. Earlier this month, North Korea's envoy to the talks, Kim Kye-gwan, told two US experts visiting Pyongyang that it wanted massive shipments of heavy fuel oil or electricity and two light-water reactors, the construction of which the US and its partners suspended two years ago.
Hill said the nuclear reactor had not emerged as a problem this time.
Comments will be moderated. Keep comments relevant to the article. Remarks containing abusive and obscene language, personal attacks of any kind or promotion will be removed and the user banned. Final decision will be at the discretion of the Taipei Times.