Fresh rain triggers more deadly flooding in Jakarta
GETTING WORSE A week after the Indonesian capital was pounded by the worst floods in recent years, living conditions are still very grim for the city's lower classes
Residents working in waist-high mud salvaged plates and family photos from washed-out neighborhoods in Jakarta as fresh rains yesterday triggered more flooding, compounding the misery for hundreds of thousands forced from their homes.
A week after the Indonesian capital was struck by the worst floods in recent memory, waters had receded in many middle-class districts, but conditions remained grim in narrow riverside alleys where the city's poor live.
In cramped and damp emergency shelters, mothers breast fed babies close to piles of rotting garbage. Food and medicine appeared to be sufficient in several places visited yesterday, but authorities warned the spread of disease was possible.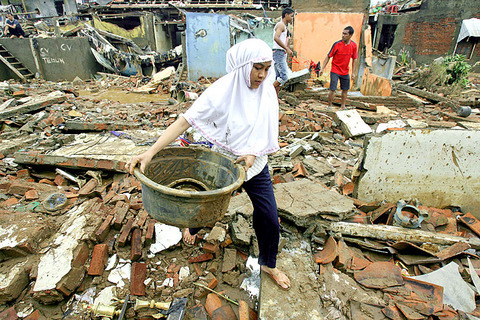 A woman salvages her belongings from her house devastated by floods in Jakarta yesterday, as more rain brought additional hardships.
PHOTO: AFP
"The rain comes in, the wind comes in, but we are stuck," said Muhammad Nahrowi, one of 5,000 people crammed into a school close to the hardest-hit districts.
Nearly half of the city's 12 million people were still submerged in muddy water, said Rustam Pakaya, chief of the Health Ministry's crisis center, citing data from aerial surveillance.
The government said between 240,000 and 420,000 people were still unable to return home.
At least 50 people were killed in the floods, while 57,000 others have since complained of itchy skin, coughs or common colds resulting from contact with dirty water or exposure, Pakaya said.
Overnight rain sent waters up to about 1m coursing back into some areas, underscoring the challenges facing city authorities as they try to clean its streets and restore basic services.
"We spent yesterday mopping and scrubbing and now the waters have come again," said Haji Jajan, 52, as women and children peered from second-floor balconies at the steadily rising waters. "I'm tired, but what can we do?"
More downpours were forecast for the capital in coming days, and authorities warned flooding was possible until the rainy season ends at the end of next month.
Floods also occurred outside the capital, with some 43,000 hectares of rice paddies and several villages, farms and businesses in west Java province in knee-high water, said a meteorologist who uses the single name Kiki.
The floods in Jakarta hit hardest in tightly packed riverside districts in Jakarta accessible only by foot and where whole families often live in a single room. Many houses were washed away or badly damaged.
Large areas of one such district, Kampung Pulo, remained under water on Wednesday.
Residents trudged through filthy waters to the main road to pick up food and water. Where floods had receded, thick mud several feet deep in places meant homes were still unlivable.
Indonesia is hit by deadly floods each year, and Jakarta is not immune. But this year's have been the worst in recent memory, with some 100,000 homes, shops and businesses swamped.
Comments will be moderated. Keep comments relevant to the article. Remarks containing abusive and obscene language, personal attacks of any kind or promotion will be removed and the user banned. Final decision will be at the discretion of the Taipei Times.