Gunmen murder Hindu priest in eastern Sri Lanka
Gunmen shot dead an ethnic Tamil Hindu priest who had publicly welcomed Sri Lanka's president to a strife-torn eastern village after the military drove out Tamil Tiger insurgents, the Defense Ministry said yesterday.
Selliah Parameswar, 61, was eating dinner with his wife and three children when he was called out of his house in eastern Batticaloa district late on Wednesday and shot dead, military spokesman, Prasad Samarasinghe said.
Samarasinghe blamed Tamil Tiger separatists for the killing. The insurgents are known to assassinate Tamils they consider to be traitors to their cause.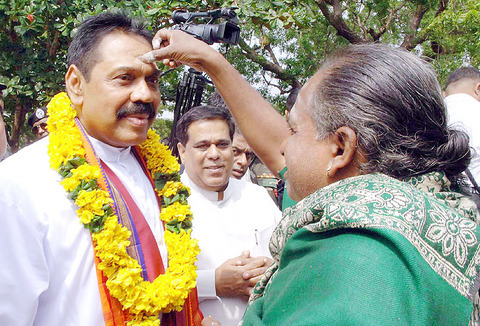 Hindu priest Selliah Parameswar, right, applies holy ash on the forehead of Sri Lankan President Mahinda Rajapakse on Saturday as the latter visited the former Tamil Tiger bastion of Vakarai in Sri Lanka's restive east.
PHOTO: AFP
"The priest was having dinner along with his wife and three children when the two [rebels] came and asked him to come out. They told them they wanted to ask him some questions," Samarasinghe said. "Then they shot him."
The Tamil Tigers, however, denied the accusation.
"I am not aware of that news but I must say that we do not engage in such activities," spokesman Rasiah Ilanthirayan said by telephone from the rebel stronghold of Kilinochchi.
"The area is under Sri Lankan military occupation," he said.
Parameswar had garlanded Rajapakse on his arrival on Saturday in Vakarai, a former rebel stronghold that was seized by security forces following weeks of fighting earlier last month.
The Tamil Tigers have been fighting since 1983 to create a separate homeland for ethnic minority Tamils, who are mostly Hindus.
Comments will be moderated. Keep comments relevant to the article. Remarks containing abusive and obscene language, personal attacks of any kind or promotion will be removed and the user banned. Final decision will be at the discretion of the Taipei Times.