Colombian crew recover 30 bodies of trapped miners
TOXIC GASES Members of the rescue team had to battle dangerous levels of trapped methane to recover the bodies of miners killed in the blast
Crews battling toxic gases recovered 30 bodies from a makeshift coal mine in northeast Colombia following an explosion that killed 32 miners, a civil defense official said on Sunday.
Efforts to remove the bodies trapped more than 400m underground by Saturday's blast were complicated by poor conditions and dangerous levels of trapped methane that made it impossible for work crews to remain below ground for extended periods.
But Fernando Rosales, director of civil defense in Norte de Santander state, said 30 bodies were recovered as of Sunday evening, and "there's one body remaining which crews will try to remove tomorrow [yesterday]."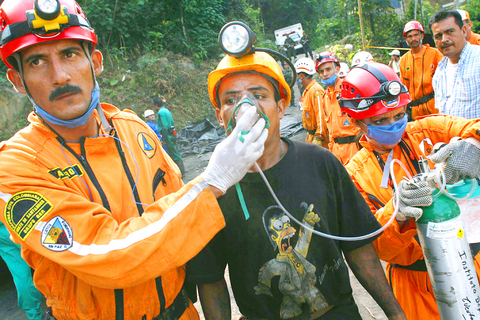 Rescue workers help a miner at the entrance of La Preciosa coal mine in San Roque, northeastern Colombia, on Sunday. An explosion that roared through the makeshift coal mine killed 32 miners on Saturday.
PHOTO: AP
Another miner escaped after the blast but later died at a hospital in the state capital of Cucuta, he said.
On Sunday, Colombian President Alvaro Uribe traveled to the mine in the remote hamlet of San Roque, 410km northeast of Bogota, and told family members gathered outside that he was "overcome with grief."
Uribe vowed the government would provide economic assistance to victims' families if the mine's owner had not contributed to employees' pension funds -- a frequent labor violation in the poorly regulated mining sector.
The president also promised an investigation into whether the mine had passed recent safety inspections.
The explosion was likely caused by a buildup of methane inside one of the tunnels that was ignited by a spark, Rosales said.
Many of the bodies were found badly burned and heavily bruised by falling rocks, he added.
Many mines in this Andean nation are makeshift affairs with few or no safety procedures.
In January last year, three self-employed coal miners -- a 60-year-old father and his two sons -- died at a mine in the same region after inhaling poisonous gases.
Other mine disasters in Colombia have been the result of landslides and erosion.
In 2001, at least 37 gold miners were killed when a hillside gave way and swept over them at a strip mine located 200km west of Bogota.
The mine had been shut down earlier in the year because erosion made it unstable.
Comments will be moderated. Keep comments relevant to the article. Remarks containing abusive and obscene language, personal attacks of any kind or promotion will be removed and the user banned. Final decision will be at the discretion of the Taipei Times.