Attack prompts battle in Somalia
NO PEACE YET Mogadishu residents said yesterday's gunbattle between state troops and Islamist forces was the heaviest fighting seen in the capital recently
At least two people were killed and several wounded in the volatile Somali capital after heavy fighting between gunmen and government troops, residents said yesterday.
Witnesses described an ambush on an army patrol vehicle as the "heaviest fighting" in southern Mogadishu since Somali and Ethiopian forces routed an Islamist movement from the capital late last month.
"After the fighting, I saw two bodies, both of them men killed near a pasta factory on October 21 Road," said Munina Ismail, a resident of the area.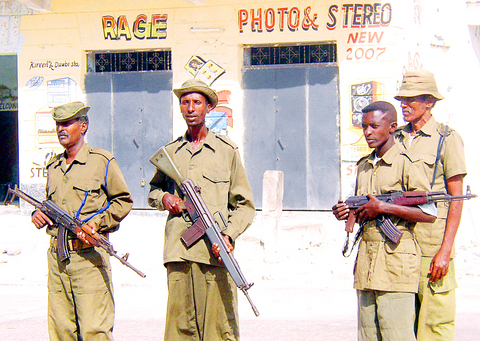 Troops loyal to Somalia's transitional government patrol a street in Mogadishu on Saturday. Gunmen attacked a government convoy yesterday.
PHOTO: AP
"An explosive that was thrown at the vehicle left many casualities, but I do not know how many," said Mohamoud Aden, another resident in southern Mogadishu which had been the stronghold of the Islamists and where most ambushes against troops have occurred in recent days.
The incident sparked fighting that lasted for about 30 minutes before government troops backed by Ethiopian forces surrounded the area and restricted the movement of residents.
"Immediately, heavily-armed Ethiopian troops and tanks arrived at the scene and sealed the whole neighborhood," Mohamed Hassan said.
"They started carrying out a house-to-house search of weapons, but I am not aware whether they recovered any," Hassan added.
Somalia's parliament approved the imposition of martial law over the weekend in a vote which gives the security forces wide-ranging powers.
Residents said the fighting was the heaviest in recent days.
"This was the heaviest fighting since the government and Ethiopian forces defeated the Islamists," Hassan said.
Deputy defense minister Salad Ali Jelle refused to comment on the clashes that highlight the government's limited ability to restore the rule of law despite a vow to end Mogadishu's reputation for lawlessness.
Also overnight, gunmen attacked a government post at Merka, about 100km south of the capital, but the motive for the raid remained unclear, witnesses said.
"Four people were wounded when unknown gunmen opened fire at a government office in Merka," said Jibril Abdi, a farmer.
Somalia has been devoid of an effective central authority since the 1991 ouster of dictator Mohamed Siad Barre.
A government was formed in Kenya in 2004 and returned to Somalia the following year but, unable to go to Mogadishu, had to set up in Baidoa some 250km northwest of the capital before the Islamists' demise.
Comments will be moderated. Keep comments relevant to the article. Remarks containing abusive and obscene language, personal attacks of any kind or promotion will be removed and the user banned. Final decision will be at the discretion of the Taipei Times.