TV star Oprah Winfrey opens school in South Africa
Oprah Winfrey was already the planet's most watched talkshow host, one of the US' most successful magazine publishers, a billionaire, an Oscar-nominated actor, the most important black philanthropist in the US and, according to several assessments, the most influential woman in the world.
So from one perspective, the school that she opened for 152 poor South African girls outside Johannesburg on Tuesday was perhaps not all that significant.
But that was not how it felt for Buhle Zulu, 12, who found herself whisked from sleeping on a floor with six family members in Soweto to her own bedroom and bathroom in the site, funded with US$40 million of Winfrey's US$1.5 billion fortune.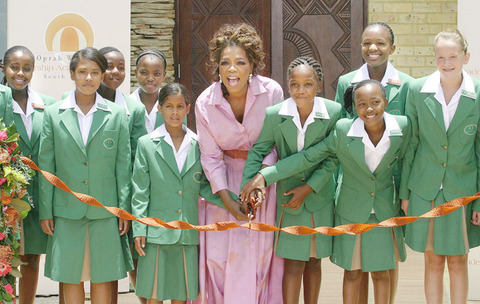 US TV talkshow queen Oprah Winfrey, center, opens a multimillion dollar school on Tuesday for poor South African girls she has funded.
PHOTO: AFP
The Oprah Winfrey Leadership Academy for Girls also features computer and science laboratories, a theater, library, gymnasium, health center, sports fields and beauty salon.
On what she called "the proudest, gravest day of my life," Winfrey pledged, at an opening ceremony attended by former South African president Nelson Mandela and a clutch of A-list celebrities that she would make the school "the best in the world," helping its pupils "change the face of the nation."
Stars including the singers Tina Turner, Mariah Carey and Mary J Blige, the film-maker Spike Lee and the actor Sydney Poitier watched as the talkshow host, herself born in rural poverty and raised in deprived inner-city neighborhoods, described how she had visited the families of many of the students, who were selected from 3,500 applicants.
To qualify for a place, the girls had to show academic and leadership potential and have a household income of less than US$800 a month.
"I went to their homes. I know all of them by name. Their story is my story," Winfrey said.
She had chosen "every brick, tile, sheet and spoon" in the academy herself, she said.
"When you educate a girl you begin to change the face of a nation," Winfrey said. Attending the school would "change the trajectory of these girls' lives. They will excel and pass their excellence on to their families, their nation and our world. I wanted to give this opportunity to girls who had a light so bright that not even poverty could dim that light."
"I would have had a completely different life if this hadn't happened to me. Now I get a life where I get to be treated like a movie star," a 13-year-old student said.
But Winfrey said that the school, in the town of Henley-on-Klip, south of Johannesburg, was not elitist.
"If you are surrounded by beautiful things, and wonderful teachers who inspire you, that beauty brings out the beauty in you," she said.
"The key to any country's future is in educating its youth," Mandela told the audience.
"Oprah is ... not only investing in a few young individuals but in the future of our country. We are indebted to her for her selfless efforts. This is a lady that, despite her own disadvantaged background, has become one of the benefactors of the disadvantaged throughout the world and we should congratulate her for that," he said.
Comments will be moderated. Keep comments relevant to the article. Remarks containing abusive and obscene language, personal attacks of any kind or promotion will be removed and the user banned. Final decision will be at the discretion of the Taipei Times.