Raul Castro signals leadership succession
Interim Cuba leader Raul Castro was tipped to signal a passing of the torch to a newer generation of Communist leaders when Cuba's national legislature opened its annual meeting yesterday.
Raul's role as top leader since he took over from his ailing older brother Cuban President Fidel Castro on July 31 will likely be made clearer at the meeting.
But the probable absence of Fidel, unseen in public since he underwent surgery in July, will spotlight the big question about the future of Cuba and who will lead it, beyond the Castro brothers.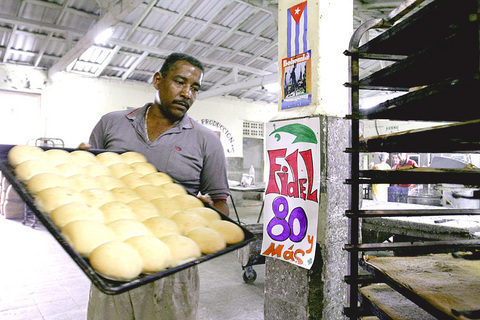 A baker passes in front of a poster dedicated to Cuban President Fidel Castro that reads ``Fidel 80 and more'' at a bakery in Havana on Thursday.
PHOTO: AFP
Raul, 75, strongly suggested during a speech late on Wednesday to the University Students' Federation (FEU) that the time had come for a changing of the guard.
"Whether we like it or not, we're already coming to the end of our duties," he said. "We have to yield to the new generations ... or continue to lead the way for the new generations, gradually of course."
Raul spoke from a table where three generations of Cuban leaders were sitting, including Jose Ramon Machado Ventura, 76, chief of the Organization Department of the Communist Party Central Committee; Vice President Carlos Lage, 55; and his 25-year-old son and FEU Chairman Carlos Lage Codorniu.
After the students said in a final statement that they would "defend the martial, Marxist-Leninist, socialist and anti-imperialist revolution," Raul replied that he was proud Cuba would be led "by the new generations you represent."
On what style of government they should follow, Raul, also Cuba's defense minister, recommended the leadership should always include exhaustive debate.
He offered a little insight in his own way of doing things.
"I confer with a group of 12 generals of one or more stars. They all give their opinions, they all discuss, and in the end, if I don't see a true majority consensus, no conclusion is reached, unless it's an emergency," he said.
With 609 members, the National Assembly of People's Power (ANPP) gives some hints at the future leadership. It is presided over by one of the leading figures of the regime, Ricardo Alarcon, 69, Cuba's former representative to the UN.
The legislature comprises now three generations of Cuban leaders, all bound together by "Fidelism" -- from the old guard who rose up behind Fidel Castro in the 1959 revolution, to the newest generation of 30-year-olds to 40-year-olds.
In between are rising figures like Lage; Felipe Perez Roque, 41, Cuba's top diplomat; and Francisco Soberon, 61, central bank governor.
All were named by Fidel Castro to back his brother in the interim.
Comments will be moderated. Keep comments relevant to the article. Remarks containing abusive and obscene language, personal attacks of any kind or promotion will be removed and the user banned. Final decision will be at the discretion of the Taipei Times.