Robert Gates takes oath of office
DAUNTING MANDATE The new Pentagon chief faces difficult challenges as he will have to solve the Iraqi riddle and prevent Afghanistan from falling back into chaos
Robert Gates took the oath of office as US defense secretary on Monday, warning that a US failure in Iraq would be a "calamity" and vowing not to let Afghanistan again become a sanctuary for extremists.
Gates, 63, who was sworn in at the Pentagon by Vice President Dick Cheney as President George W. Bush looked on, replaces Donald Rumsfeld, the architect of the Iraq war who resigned under fire after nearly six years at the helm.
Calling Iraq his top priority, Gates promised Bush "candor and honest counsel" and said they had discussed the situation in Iraq in depth.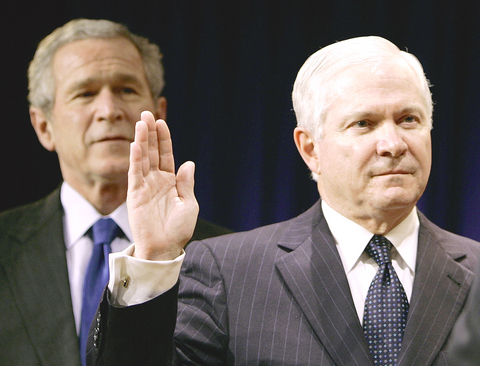 US President George W. Bush, left, watches as Defense Secretary Robert Gates is sworn in during a ceremony at the Pentagon on Monday.
PHOTO: AP
"All of us want to find a way to bring Americans sons and daughters home again," Gates said. "But as the president has made clear we simply cannot afford to fail in the Middle East."
"Failure in Iraq at this juncture would be a calamity that would haunt our nation, impair our credibility and endanger Americans for decades to come," he said.
He said the progress made in Afghanistan also "is at risk."
"The United States and its NATO allies have made a commitment to the Afghan people and we intend to keep it. Afghanistan cannot be allowed to become a sanctuary for extremists again," he said.
Gates said he would travel soon to Iraq to hear the advice of US military commanders -- "unvarnished and straight from the shoulder."
A debate is currently raging over whether an additional 30,000 US troops should be deployed to Iraq in a new push to get sectarian violence under control as responsibility for security is handed off to Iraqis.
US troop levels in Iraq have dipped down to 129,000 over the past week but they have generally hovered around 140,000.
Another 22,000 US troops in Afghanistan, many of them under a NATO-led International Security Assistance Force.
Others have the mission of hunting down al-Qaeda leaders, who are still active five years after the Sept. 11, 2001, attacks against the US.
"As Bob Gates raises his hand and takes the oath of office, he does so at a time of great consequence for our nation," Bush said.
"He understands that defeating the terrorists and the radicals and the extremists in Iraq and the Middle East is essential to leading toward peace," Bush said.
Plummeting public support for the Iraq war at home has spurred a major strategy review by Bush, who announced Rumsfeld's resignation the day after a Republican defeat in mid-term elections.
After meeting US military chiefs last week, Bush said he was putting off a decision on Iraq until early January, giving Gates some time to get his feet on the ground.
Gates is a former member of a blue ribbon panel that recommended the withdrawal of most US combat forces by early 2008 as security responsibilities are rapidly shifted to Iraqis assisted by US advisers.
After being tapped to replace Rumsfeld, Gates dropped out of the group led by former secretary of state James Baker and former representative Lee Hamilton and did not join in its recommendations.
But he told the Senate Armed Services Committee earlier this month that the US was not winning in Iraq and he worried it could ignite "a regional conflagration."
Bush has said he chose Gates, who served as CIA director from 1991 to 1993, because he wanted "fresh eyes" on the Iraq problem.
Comments will be moderated. Keep comments relevant to the article. Remarks containing abusive and obscene language, personal attacks of any kind or promotion will be removed and the user banned. Final decision will be at the discretion of the Taipei Times.