US, Britain mull action on Sudan
TIME FOR PLAN B Three years into the genocidal war in Darfur, Tony Blair is pushing for military action, while the International Criminal Court is preparing arrest warrants
British Prime Minister Tony Blair has backed plans to impose a no-fly zone on the western Sudanese region of Darfur in an effort to pressure Khartoum to stop the violence there, the Financial Times reported yesterday.
Citing unnamed officials, the business daily also said that US military planners were developing plans for air strikes and a naval blockade to supplement the no-fly zone.
Blair reportedly voiced his backing for the no-fly zone on a visit to Washington last week. He also apparently told US President George W. Bush that Sudanese President Omar Al-Bashir had to be dealt with in the next three months.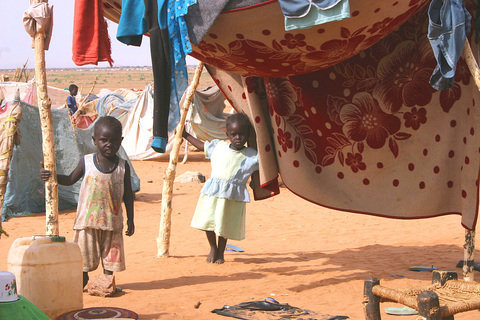 Children stand in their family's tent in the North Darfur refugee camp of El Sallam in this Oct. 4 photo.
PHOTO: AP
The prime minister will seek UN support for the plan, which would be enforced by the US and Britain.
It would be designed to prevent the government from using its air force and helicopters to attack villages in Darfur, as the UN and various human rights organizations have alleged.
Meanwhile, an unidentified official was quoted by the Times as saying that military planning has begun. "The Americans mean business," the official said.
US envoy in Sudan Andrew Natsios visited Darfur over the weekend in an effort to persuade Khartoum to accept a joint African Union-UN peacekeeping force there.
"We are very concerned that [Bashir] is buying more time to continue with military operations in Darfur," an unnamed official was quoted by the newspaper as saying.
"We need a different game plan," the official said, referring to a US "Plan B," which the Times said was believed to be a package of sanctions, apparently involving financial sanctions against individuals and corporations as well as coercive action.
The newspaper also said that unidentified French diplomats said there had as yet been no approach for cooperation from their US counterparts, adding that France would only agree to military initiatives if they were undertaken under a multilateral framework.
Meanwhile, the prosecutor of the International Criminal Court (ICC) plans to indict suspects for atrocities in Darfur by February, nearly two years after the UN Security Council asked him to probe the Sudanese region.
In a report ahead of his address today to the council, prosecutor Luis Moreno-Ocampo said his office was preparing submissions for arrest warrants to judges of the ICC's pretrial chamber.
"We are planning to complete this work no later than February," Moreno-Ocampo said in the report.
Arrest warrants are equivalent to indictments at the ICC, the world's first permanent criminal court based in The Hague, the Netherlands.
Moreno-Ocampo said that since the start of the investigation, his team has carried out more than 70 missions to 17 different countries and conducted more than 100 interviews, many of which were with victims of crimes in Darfur.
But he said that due to the violence in Darfur, he had been forced to conduct the interviews with witnesses outside of Sudan, an arduous task.
Evidence, the report said, included rape, torture, willful murder, sexual violence and torture in Darfur, where at least 200,000 people have been killed and 2.5 million displaced in fighting among rebels and government forces since 2003.
Comments will be moderated. Keep comments relevant to the article. Remarks containing abusive and obscene language, personal attacks of any kind or promotion will be removed and the user banned. Final decision will be at the discretion of the Taipei Times.