Malaysia's new king sworn in at the palace
Malaysia's unique revolving monarchy was passed yesterday to the youthful sultan of the oil-rich state of Terengganu, a keen horse rider who has represented his country at international events.
Sultan Mizan Zainal Abidin, at 44, is Malaysia's second-youngest king ever, and is to serve a five-year term in the capital Kuala Lumpur after he was sworn in at a solemn ceremony at the king's palace.
Mizan, clad in royal yellow and sporting a sparkling ethnic Malay head-dress and a knife called the keris, was flanked by Malay state rulers as he read and signed an oath of office vowing to be loyal to Malaysia's laws and constitution.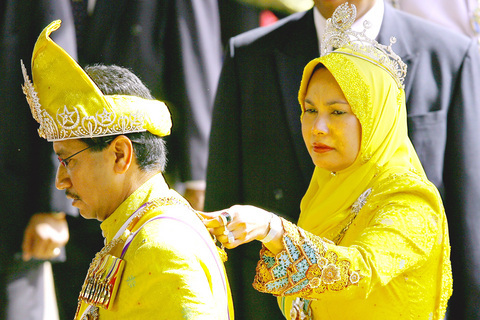 The thirteenth King of Malaysia Sultan Mizan Zainal Abidin, left, has his ceremonial dress adjusted by Queen Nur Zahirah during his welcoming ceremony at the parliament in Kuala Lumpur, Malaysia, yesterday. Mizan, at 44, is Malaysia's second-youngest king ever, and is to serve a five-year term, after he was sworn in at a solemn ceremony at the king's palace.
PHOTO: AFP
The new monarch, who was composed through the ceremony, promised to protect Islam, Malaysia's official religion, and said he "will ensure a fair and peaceful rule in the country."
Prime Minister Abdullah Ahmad Badawi, seated opposite with his Cabinet, then presented and read a letter declaring Mizan as king.
The sultan of northern Kedah state, Abdul Halim Mu'adzam Shah, was also sworn in as deputy king.
Mizan and his wife, Nur Zahirah, 33, arrived earlier yesterday from Terengganu and headed for parliament in a mustard gold Rolls Royce for an official welcome from Abdullah.
They were treated to a 21-gun salute after Mizan inspected a guard of honor. Ministers and foreign dignitaries stood in attendance to shake hands with Mizan and his queen, also dressed in yellow with a tiara placed on her headscarf.
Mizan will be formally installed as Yang di-Pertuan Agong ("He Who Is Made Lord," in Malay) in a grand ceremony next year at a date to be set.
Since independence in 1957 the country has had a system of elective monarchy, with the rulers of nine of the country's 13 states choosing a new king every five years.
The king commands great respect from Malaysians, especially the country's majority Malays, who maintain a loyalty to rulers which can be traced back to Malay sultanates centuries ago.
"We as Malaysians hope there will be peace and harmony under the leadership of the new king," said Rahmat Manidi from southern Johor state, amongst callers phoning in tributes to a state television channel.
The king is also the symbolic head of Islam in the majority-Muslim nation, as well as the nominal chief of the military.
Comments will be moderated. Keep comments relevant to the article. Remarks containing abusive and obscene language, personal attacks of any kind or promotion will be removed and the user banned. Final decision will be at the discretion of the Taipei Times.