Thousands gather for Pinochet
ROCK AND A HARD PLACE President Michelle Bachelet found herself in a difficult position, criticized on both sides after allowing the former dictator a military send-off
Untried for the crimes related to his dictatorship, Augusto Pinochet got full military honors on Monday, as followers streamed past his open casket and his victims' relatives marched to keep his infamy alive.
President Michelle Bachelet, whose mother, father and herself were tortured under the 1973-1990 regime, denied the late dictator a state funeral but let the former general receive the military tribute.
Pinochet, who died on Sunday one week after a heart attack and two weeks after his 91st birthday, was mourned by followers who filed in silence past his body clad in a grey general's uniform at Santiago's Military School.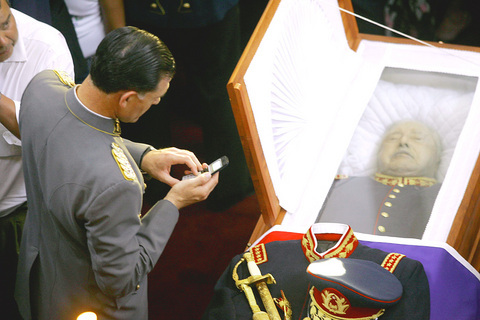 An unidentified member of the military uses his cellphone as he looks into the coffin of former dictator General Augusto Pinochet during his wake at the Military Academy in Santiago on Monday.
PHOTO: AP
Outside, some 5,000 mourners queued in the hot sun for their turn to bid their last farewell to Pinochet.
"He was the best president Chile ever had," said an old woman under a parasol.
At three other locations around Santiago, thousands of friends and relatives of 3,000 people killed or missing during the Pinochet years, marched in silence to make sure the dictatorship's macabre legacy was not forgotten.
Even after his death, Pinochet continued to divide Chile, as Bachelet sought to explain why she denied the late dictator a state funeral.
"In any society, in any country that lacks norms or predetermined laws for a particular situation, it is up to the leaders, the government, to make decisions in the best interests of the people," Bachelet said.
"Over the past several hours we have seen divisive acts that we don't like, but as a society and as a country we have to have the ethical strength to overcome this challenge," the Socialist leader said.
Thousands of people celebrated Pinochet's death in Santiago on Sunday as hooded radicals clashed with police, who later reported 99 arrests and 43 police officers injured in the violence.
Pinochet's youngest son, Marco Antonio, criticized the lack of a national funeral for his father, who, he said, "was totally committed to his country and took it out of indescribable chaos."
Others said a military funeral was too much. Bachelet "forgets the tyrant ordered other armed forces commanders to be put to death," Angel Hoces, head of the Socialist Party of Chile in Mexico, said in the Mexican capital.
High ranking military officers who died under Pinochet's regime include Bachelet's own father, Alberto Bachelet, an air force general who was tortured and died in prison in 1975.
While leftist politicians have slammed Pinochet's 17-year rule, the right recalled his economic policies that it said led to the "Chilean miracle."
Human rights groups and newspapers across the world expressed disappointment that Pinochet died without ever facing trial for the killings and torture committed under his rule.
On his 91st birthday, Nov. 25, Piochet assumed "full responsibility" for all that happened under his regime, but vowed never to apologize, according to his wife, Lucia Hiriart.
Most disappointed over Pinochet's death are all those who tried to bring him to trial for the many human rights violations that took place under his regime.
"The criminal died without every knowing the meaning of being convicted for all his horrible crimes," said Hugo Gutierrez, a lawyer for some of the victims of the regime.
While Pinochet has escaped trial, his wife and five children are still facing charges of stashing millions of dollars in state funds in accounts outside Chile, including in Washington's Riggs Bank.
Amnesty International said Pinochet's death underscored the importance of swiftly prosecuting human rights abusers.
"General Pinochet's death should be a wake-up call for the authorities in Chile and governments everywhere, reminding them of the importance of speedy justice for human rights crimes, something Pinochet himself has now escaped," the human rights group said.
Comments will be moderated. Keep comments relevant to the article. Remarks containing abusive and obscene language, personal attacks of any kind or promotion will be removed and the user banned. Final decision will be at the discretion of the Taipei Times.