Feature: Pakistan launches 21-year-old malt
The dusty, traffic-choked streets of this sprawling Pakistani metropolis are a world away from the crisp mountain streams and heather-covered glens normally associated with single-malt whiskeys.
But it's here in dusty Rawalpindi that the only malt whiskey distillery in the Muslim world is preparing to launch its newest product -- a 21-year single malt that it claims will rival in quality the best Scotch whisky.
"Very few distilleries anywhere in the world, even the high-end ones in Scotland, produce ... 21-year old malts," said MP Bhandara, chief executive of the Murree Brewing Company, announcing the launch of the new product which goes on sale next month.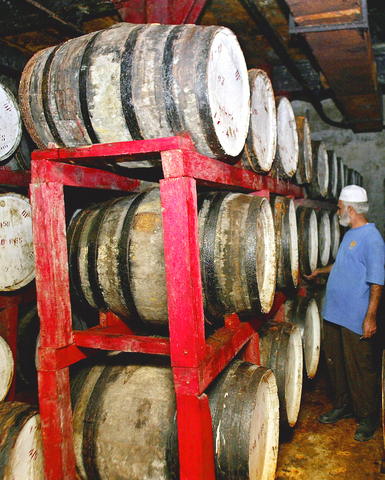 An employee of Murree's Brewery examines whiskey barrels stored in a cellar last month in Rawalpindi, Pakistan. The only malt whiskey distillery in the Muslim world is preparing to launch its newest product, a 21-year single malt that it claims will rival in quality the best Scottish whiskys.
PHOTO: AP
Bizarrely, the new spirit, named Murree's Millennium Reserve, will only be available to a small clientele of ex-pats and non-Muslims in a land where prohibition has been enforced for 30 years.
Existing variants -- including eight and 12-year-old single malts -- cannot be sampled abroad because Islamabad bans exports of alcoholic beverages.
Pakistan is officially an Islamic country, one of only a half dozen in the world.
Legally, only the non-Muslim minority, which accounts for a mere 5 percent of the 150 million population, can get a permit that allows them to buy liquor for home consumption.
But in black market sales around the city alcohol is sold to Muslims at a significant markups.
This can be risky business, because under Pakistan's draconian laws drinking alcohol is punishable by caning and three years in jail.
The whiskey distillery is part of Murree Brewery, which itself is a legacy of British colonial rule, set up in 1860 in the hill station of Murree to provide beer for the British troops.
The company not only survived throughout the years, but with a work force of more than 400 people -- mostly Muslims not allowed to sample their own products -- it has become one of Pakistan's best-performing stocks.
In the 1960s, Bhandara decided to investigate the possibility of producing a high-grade whiskey.
The distilling process still employs the traditional way of spreading malt on the floor of a huge warehouse for processing, rather than using modern mechanical malting systems.
In his monograph, The Complete Book of Whiskey, author Jim Murray says that Murree's 12-year Malt Classic not only compares favorably with Scottish versions, but "is much better than a number of lesser Scotch malts which come nowhere near in matching this whiskey's crisp and delicate maltiness."
The enthusiastic review says it "would not be out of place in Speyside," referring to the region of Scotland where most malt whisky distilleries are located.
Bhandara is especially irked by the export ban, saying he is trying to get parliament to revoke it because sales to Pakistanis and Indians living in Britain could enable the company to expand operations and employ hundreds of new workers.
"The government is very sensitive when it comes to Islamic edicts, and it would look very peculiar for an Islamic country to be exporting alcohol," explains Bhandara, who describes his own religious affiliation as "nothing."
Comments will be moderated. Keep comments relevant to the article. Remarks containing abusive and obscene language, personal attacks of any kind or promotion will be removed and the user banned. Final decision will be at the discretion of the Taipei Times.