AIDS campaigner released after mysterious detention
Leading Chinese AIDS activist Wan Yanhai (萬延海) was freed yesterday after being detained for three days, his Beijing-based non-government organization said.
Wan was taken away on Friday by men who said they were police but did not show any identification.
"Wan Yanhai was freed this morning, he is in good health," a worker at the AIDS Action Project told reporters. "He was being held somewhere in Beijing by people who said they were the police and who took him away. We still don't know if they were real police."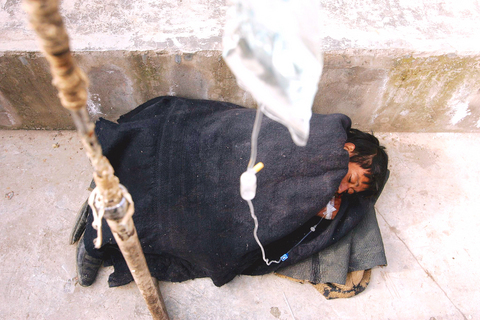 A 31 year-old heroin addict with AIDS, Hai Lai Er Zhe, lays on the ground at a village health clinic while receiving an intravenous infusion of medicine in rural Liangshan Yi Autonomous Prefecture, Sichuan Province, China, on Sunday. The man is one of the Yi ethnic people, an impoverished minority group heavily affected by HIV and drug addiction. China has an estimated 650,000 HIV carriers.
PHOTO: EPA
The group was to release further details later yesterday, he said.
Wan's detention forced the cancelation of an AIDS rights forum as part of activities for the Dec. 1 World AIDS Day.
The "Blood Safety, AIDS and Legal Human Rights Workshop" was slated for Sunday and was to have gathered about 50 people who had contracted HIV from unsafe blood transfusions in China.
Although the majority of China's estimated 650,000 HIV carriers are believed to be linked to high-risk groups such as drug users and sex workers, many have contracted the disease through transfusions involving tainted blood.
In the late 1990s, several villages in central China's Henan Province were devastated by AIDS after locals got the disease through government-backed blood drives.
Victims of the scandal have protested loudly, while the government has failed to investigate those responsible and only slowly acknowledged the disaster.
China's health ministry said last week that 183,733 people were confirmed with HIV/AIDS at the end of last month, significantly lower than the estimate put forward jointly by the government and UN health agencies.
Comments will be moderated. Keep comments relevant to the article. Remarks containing abusive and obscene language, personal attacks of any kind or promotion will be removed and the user banned. Final decision will be at the discretion of the Taipei Times.