Pope meets archbishop
Pope Benedict XVI and Anglican leader Rowan Williams said there were "serious obstacles" to closer ties between their churches, a blunt acknowledgment of Vatican disapproval of gay bishops, women priests and blessings of same-sex unions in the Anglican church.
Benedict and the Archbishop of Canterbury, talking privately on Thursday in the papal library and then praying together in a chapel, met to celebrate 40 years of dialogue aimed at uniting the churches split apart in 1534 by King Henry VIII's anger over the Vatican's refusal to annul his marriage.
But their frank assessment of where relations stand now underscored the challenges.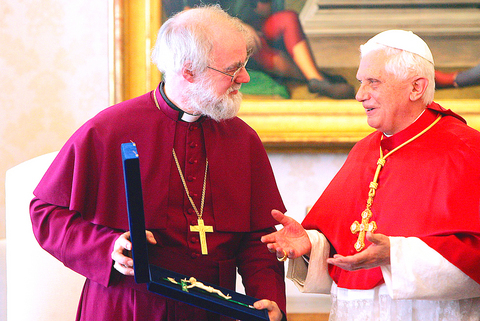 Archbishop of Canterbury Rowan Williams listens to Pope Benedict XVI at the Vatican yesterday. Williams, head of the 77 million member Anglican Church, was meeting with Benedict for the first time officially since the Pope was elected in last year.
PHOTO: EPA
In a joint statement, signed while sitting side-by-side at a table, they expressed gratitude for the efforts at unity and pledged to pursue the path of continuing dialogue.
"At the same time, our long journey together makes it necessary to acknowledge publicly the challenge represented by new developments which, beside being divisive for Anglicans, present serious obstacles to our ecumenical progress," they said.
In his speech to the pope, Williams said that "disputes about how we apply the Gospel to the challenges thrown up by modern society can often obscure or even threaten the achievements of dialogue."
Williams, who came with his wife and young son, said he was wearing the episcopal ring which Pope Paul VI had given the archbishop's predecessor, Michael Ramsey, in 1966, when dialogue was launched after centuries of estrangement, and a cross which was a gift from Pope John Paul II.
Neither their speeches nor their joint declaration listed the points of contention, but references to them were clear.
"Recent developments, especially concerning the ordained ministry and certain moral teachings, have affected not only internal relations with the Anglican Communion but also relations between the Anglican Communion and the Catholic Church," Benedict told Williams.
Blessings of unions between men or between women in the US and Canada have bruised relations.
Comments will be moderated. Keep comments relevant to the article. Remarks containing abusive and obscene language, personal attacks of any kind or promotion will be removed and the user banned. Final decision will be at the discretion of the Taipei Times.