Vicente Fox angered by restrictions on his travels
GROUNDED The Mexican Congress has denied the president permission to visit Australia and Vietnam, prompting calls for reform of executive-legislative ties
Mexican President Vicente Fox called on Wednesday for constitutional reforms that would allow Mexican leaders to travel abroad without congressional approval -- a day after lawmakers irked Fox by refusing to grant him permission to go to Australia and Vietnam.
Fox's spokesman Ruben Aguilar harshly criticized legislators for their action, saying that their arguments -- which included rumors that Fox was going to Australia just to visit his daughter -- were "childish" and "petty."
"This administration believes that this article of the Constitution has to be reformed because it causes unwarranted tension between the executive and legislative branches," Aguilar told reporters, saying that Mexico is one of the few countries where such rules exist.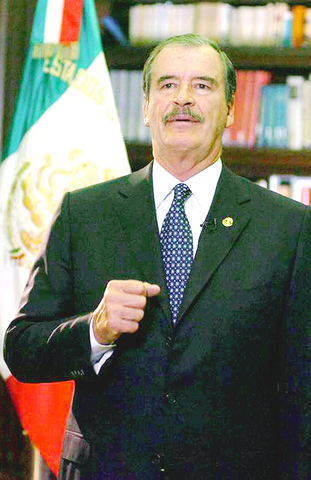 Mexican President Vicente Fox speaks on national television on Wednesdsay in Mexico City after lawmakers rejected his request to attend the APEC forum in Hanoi next week despite the continuing political crisis in Oaxaca.
PHOTO: AFP
Later on Wednesday, Fox said the lawmakers' arguments were aimed at "generating an alarmist vision of our country."
Legislators said they were upset that Fox wanted to travel abroad while a political conflict in Oaxaca continued to smolder, and small bombs presumably planted by guerrilla groups had exploded on Monday in Mexico City.
Fox went on national TV on Tuesday night to express his disappointment, saying the decision "goes against Mexico's interests" and was "clearly partisan."
It was the second time in recent memory that Congress had exercised its power to block the president from traveling abroad -- usually a rubber-stamp vote.
The trip would have been Fox's last international trip. He leaves office on Dec. 1.
Congress voted 258-187, with six abstentions, to deny Fox permission for an official visit to Australia from Nov. 12 to Nov. 16.
From there he was to have traveled to Vietnam for the APEC summit in Hanoi on Nov. 18 and Nov, 19 .
The Senate approved the trip, but either house can block it.
Fox lashed out at Mexico's opposition political parties, especially the Institutional Revolutionary Party (PRI.
"I regret that lawmakers from the PRI refuse to listen to the voice of the people and aren't capable of acting responsibly to resolve local conflicts," he said.
That was an apparent reference to the refusal of the PRI governor of Oaxaca to heed calls to step down -- a stance that has fueled six months of protests, leaving nine dead and driving tourists away from one of Mexico's top tourist destinations.
On Wednesday the PRI leadership in a statement called Fox's accusations "offensive and baseless."
Also on Wednesday, a group of lawyers filed a lawsuit against Fox, saying he had not paid them US$3 million for defending him in a case over irregularities involving his 2000 campaign finances.
Monterrey-based lawyer Arturo Quintero said that he and two other lawyers filed the lawsuit in Mexico City after waiting more than a year to be paid.
The suit also names businessman Lino Korrodi, who was Fox's financial manager during his 2000 presidential campaign.
Election officials fined Fox's National Action Party after they found the party had received money from outside Mexico and exceeded campaign spending limits, among other violations.
The presidency declined to comment on the lawsuit.
Comments will be moderated. Keep comments relevant to the article. Remarks containing abusive and obscene language, personal attacks of any kind or promotion will be removed and the user banned. Final decision will be at the discretion of the Taipei Times.