Israeli president admitted to hospital for heart exam
Israeli President Moshe Katsav, under police investigation for rape and other serious allegations, was taken to a Jerusalem hospital for heart examinations after feeling unwell but later sent home after no illness was found, Israeli Army Radio reported on Tuesday, citing unnamed health ministry officials.
Spokespeople for the hospital and the president's office could not be reached for comment.
The radio said Katsav, 60, was taken to Jerusalem's Hadassah Hospital after complaining of chest pains but discharged after tests and returned to his official residence in the city.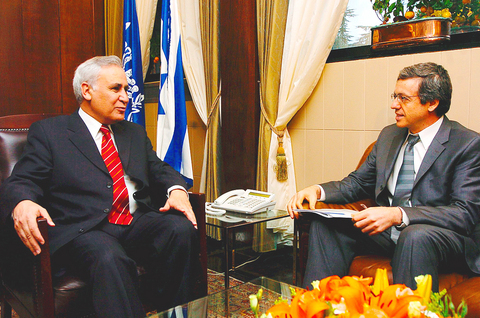 Israeli President Moshe Katsav, left, meets with Israeli Attorney General Menachem Mazuz in Jerusalem in March. Mazus said on Sunday that Katsav should resign his post once a decision to indict him is made.
PHOTO: EPA
Attorney General Meni Mazuz on Sunday recommended that Katsav step down from his ceremonial post while authorities investigate the accusations against him.
Katsav, whose lawyer says is bearing up well under the stress of possible impeachment, criminal charges and a chorus of calls for his resignation, maintains his innocence and has refused to quit.
Police recommended two weeks ago that he be indicted on charges including rape and aggravated sexual assault, following a lengthy investigation into complaints by several women who worked for Katsav during his tenure as president and, before that, as a Cabinet minister.
Police also recommended Katsav be charged with fraud, illegal wiretapping and other charges, and he is still being investigated on suspicions of disrupting a police investigation and harassing a witness.
Comments will be moderated. Keep comments relevant to the article. Remarks containing abusive and obscene language, personal attacks of any kind or promotion will be removed and the user banned. Final decision will be at the discretion of the Taipei Times.