Bush slams Democrats on Iraq
DIFFERENT OBJECTIVES An embattled Bush tried to gain points by saying that the Democrats had no plan for Iraq other than to get out of the country
Weakened by the unpopular Iraq war, US President George W. Bush accused Democrats of lacking a plan to win it on Monday as he opened a weeklong drive to maintain Republican control of the US Congress.
"The Democratic goal is to get out of Iraq. The Republican goal is to win in Iraq," Bush told hundreds of supporters in an airport hangar south of Houston.
Bush planned to travel every day but one until the Nov. 7 elections, swooping into regions where races are tight and where a presidential visit aimed at drawing Republican loyalists to the voting booths might make a difference.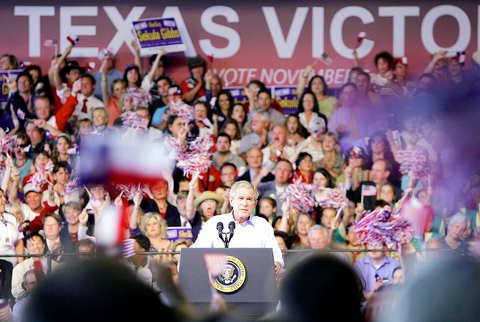 US President George W. Bush delivers a speech during a Texas Victory 2006 Rally on Monday at Sugar Land Regional Airport, Texas.
PHOTO: AFP
Keeping up the fight in Iraq was a central theme of his stump speech. He argued in Statesboro, Georgia and in Sugar Land that it was the right decision to oust Saddam Hussein from power in Iraq despite the bloody insurgency that sprang up after the US invasion.
Accused by Democrats of refusing to budge from a stay-the-course policy, Bush insisted his commanders have the flexibility they need to adjust to enemy tactics and said the only way not to succeed is to leave "before the job is done."
"If you listen carefully for a Democrat plan for success, they don't have one. Iraq is the central front in the war on terror, yet they don't have a plan for victory," he said.
In his home state of Texas, Bush sought to rally Republicans behind Houston City councilwoman Shelley Sekula-Gibbs, the party's candidate to succeed Tom DeLay, the former No. 2 Republican in the House of Representatives.
DeLay resigned his seat this year after he was caught up in an influence-peddling scandal involving lobbyist Jack Abramoff. Democrat Nick Lampson is favored to take the seat as his party tries to pick up the 15 seats it needs to take control of the House.
A new Zogby International poll found Lampson and Sekula-Gibbs in a neck-and-neck race, but her campaign is complicated because her name has to be written in on the ballots.
Bush urged Republicans to bring a piece of paper with her name on it to know how it is spelled so they can write it in on Election Day.
"We're going to elect Shelley, and we're going to control the House and the Senate," Bush said.
With polls showing voters far more inclined to vote for Democrats this year, Bush told the Fox News Channel's Hannity & Colmes that polls in the past have been proved wrong.
"Well, you know, in 2002, a lot of pundits didn't get the off-year elections right. 2004, a lot of people thought I was going down eight days before the election," he said.
Dispatching the president was a calculation by the White House that Bush can help deliver votes despite a job approval rating below 40 percent and deep dissatisfaction with his handling of the war in Iraq, where the death toll among US troops surpassed 100 for last month.
"On a day when the United States reached a grim milestone in Iraq, President Bush resorted to the same tired old partisan attacks in a desperate attempt to hold on to power and avoid accountability for his mistakes," said Senate Democratic leader Harry Reid of Nevada.
In Statesboro, Bush campaigned for former Rep. Max Burns, who is trying to defeat incumbent Democratic Rep. John Barrow.
Independent analysts suggest Democrats could gain 20 to 35 seats in the House.
Democrats would need to win several tight races to gain the six seats necessary to take Senate control.
A new Associated Press-AOL News poll shows that likely voters -- angry at Bush and citing Iraq and the economy as their top issues -- overwhelmingly prefer Democrats over Republicans in the Nov. 7 congressional elections.
Democrats need to pick up 15 seats in the House of Representatives and six in the Senate to regain power in Congress.
All 435 House seats and 33 in the 100-member Senate are up for a vote.
Comments will be moderated. Keep comments relevant to the article. Remarks containing abusive and obscene language, personal attacks of any kind or promotion will be removed and the user banned. Final decision will be at the discretion of the Taipei Times.