US envoy pans S Korea's concerns over inspections
HESITANT Seoul has chosen not to fully participate in Washington's initiative to monitor marine cargo going to and from the North because of fears of confrontation
The top US diplomat in South Korea dismissed as "absurd" concerns that an initiative to halt and inspect ships leaving North Korean ports could provoke armed clashes between the the two Koreas, according to an interview published yesterday.
South Korea has been hesitant to fully participate in the US-led Proliferation Security Initiative, or PSI, for fear it could spark violent confrontations with North Korea and spoil efforts to persuade the communist state to give up its nuclear ambitions through diplomacy.
Last week South Korean Vice Foreign Minister Yu Myung-hwan told Parliament that Seoul would not fully participate in the program because of the "high possibility" of armed conflict with the North.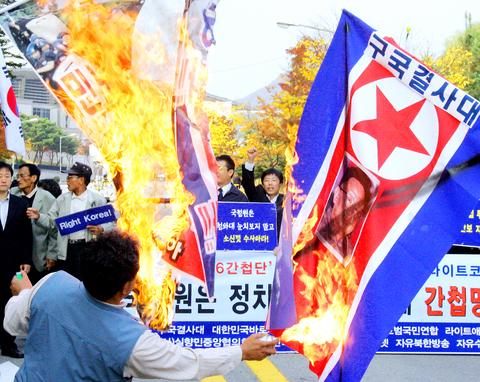 A South Korean protester burns defaced North Korean flags and portraits of North Korean leader Kim Jong-il during a rally denouncing a visit by members of the South's Democratic Labor Party to North Korea. The protest, which occurred in front of the National Intelligence Service building in Seoul yesterday, came as the US ambassador to South Korea said the South's concerns over searching the North's ships were ''absurd.''
PHOTO: AP
The rival Koreas fought each other in deadly naval battles in 1998 and 2002.
In an interview with the national Chosun Ilbo newspaper published yesterday, US Ambassador to South Korea Alexander Vershbow described these concerns as "absurd."
"We are pleased that in the past year South Korea has increased its formal involvement" with PSI, Vershbow said.
"But we are disappointed that so many political figures have a fundamental misunderstanding of what PSI is," he said.
Vershbow said the three-year-old initiative, which aims to block the trafficking of weapons of mass destruction, is a "voluntary cooperative effort," and that each of the 75 countries participating in the initiative is free to determine the "scope of its participation."
Seoul is trying to strike a delicate balance in its dealings with its reclusive neighbor over the North's Oct. 9 nuclear test. It wants to avoid confrontation with the North while firmly denouncing Pyong-yang's nuclear test and imposing UN sanctions.
Supporters of PSI say it could be used to halt North Korean weapons traffic under the UN resolution, which calls for a ban on the sale of arms systems to Pyong-yang and inspection of cargo entering and leaving the country.
Meanwhile, South Korean Unification Minister Lee Jong-seok, underscored his government's policy of engaging North Korea yesterday, saying "the various channels of communication" with the North should remain open.
Comments will be moderated. Keep comments relevant to the article. Remarks containing abusive and obscene language, personal attacks of any kind or promotion will be removed and the user banned. Final decision will be at the discretion of the Taipei Times.