Chinese, African leaders to hobnob at summit
Billboards of elephants, giraffes and sweeping African savannas are covering Beijing. Police have had holidays canceled to help ease gridlock in the capital. Conference centers are being carpeted with grass.
Beijing is making unusually lavish efforts to welcome leaders and officials from 48 African nations this week for a landmark summit meant to highlight China's huge and growing role in Africa.
Over the past decade, China has built an outsized presence in Africa, in a diplomatic and economic push that is helping to reshape the geopolitical map. Trade has ballooned by tenfold to US$40 billion last year. Chinese investment has funded roads and been poured into copper mines and oil fields, helping to boost African economies and, for some, standards of living.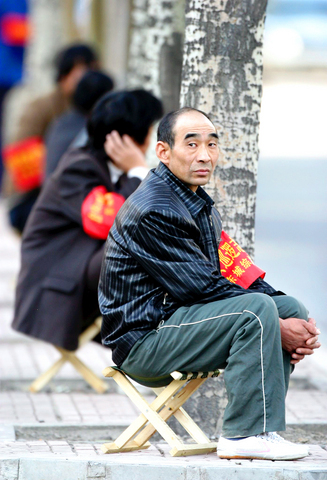 Civilians with red armbands empowered by their local street committees line a main road in downtown Beijing on the lookout for troublemakers on the eve of the China Africa Summit yesterday.
PHOTO: EPA
"China is the biggest developing country and Africa is a continent where the most developing countries are situated," said He Wenping, (何文平) an Africa expert at the Chinese Academy of Social Sciences. "They need each other."
In this exchange, China is picking up natural resources -- oil, precious minerals -- to feed its expanding economy and new markets for its burgeoning enterprises. The African countries get investment and both parties are building political alliances in a world they often see as overly dominated by the US and other Western powers.
But China's African adventure is not friction-free. African workers have protested against what they see as ill-treatment and poor pay by Chinese companies, as well as the flood of Chinese workers who take away their jobs. South Africa, a staunch friend of Beijing, has complained that influxes of cheap Chinese clothes could devastate the textile industry.
In Zambia, a decades-old political ally, China became an issue in the September presidential election, with the opposition candidate questioning the benefit from Chinese investment. In July, scores of African workers at a Chinese-owned Zambian mine rioted over low wages.
There's a "growing perception that China's interests in Africa are very self-serving, if not predatory, that China is interested in making inroads into markets that are good for its energy needs -- especially with countries that are not paragons of democratic virtue," said Garth le Pere of the Institute for Global Dialogue, a think tank based in Midrand, South Africa.
The World Bank and IMF have raised concern that freely lavished Chinese aid money is compounding Africa's debts. China's exports of oil from Angola, seen as one of Africa's most corrupt governments and Sudan, among the most repressive governments, have raised alarms from human rights and good governance groups.
Critics also have said that China's arms exports to Sudan's Darfur region have helped fuel the conflict, which has claimed at least 180,000 lives and forced more than 2 million people from their homes over the past three years.
Chinese officials, however, insist that their country's involvement has improved the lives of ordinary Africans without political meddling -- strict adherence to China's diplomatic policy of noninterference.
Comments will be moderated. Keep comments relevant to the article. Remarks containing abusive and obscene language, personal attacks of any kind or promotion will be removed and the user banned. Final decision will be at the discretion of the Taipei Times.