Tsang slammed by critics over HK skies
ALL ABOUT VISIBILITY With the chief executive arguing that air pollution need not necessarily be a health hazard, many worry that it may be too late to fix the problem
As Hong Kong's storied harbor-front skyline disappears beneath a cloud of thickening pollution, its leaders are being accused of ignoring a problem activists say it could soon be too late to fix.
While environmental, tourism and business lobbies urge the government to take action to restore Hong Kong's formerly clear skies, Chief Executive Donald Tsang (曾蔭權) told local radio that the pall of pollution hanging over the city is a crisis of visibility rather than of public health.
In comments on the radio and during a major speech to businessmen, Tsang stressed the problems of murky skies caused by rising smog rather than evidence that emissions are causing severe health problems.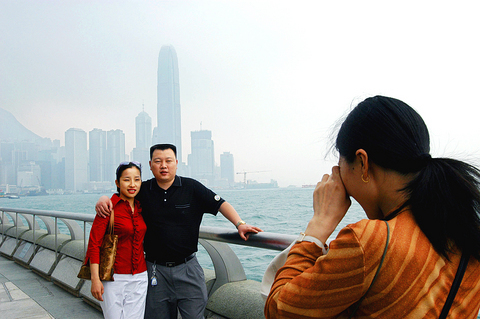 Two Chinese tourists pose for a photo by Hong Kong's harbor front on April 28, 2004.
PHOTO: AP
"Why do people feel that they don't see, that the air is poorer? It is a question of visibility," Tsang told a phone-in program on local RTHK radio over the weekend.
"Is the air right? Not so," he said. "Small particulates, which [are] coming from the mainland [China] may not affect us or [what] we breathe, but it affects our feeling that the air is not as good as before," he said.
Later, in a speech to the Hong Kong General Chamber of Commerce, he reiterated his position by trying to separate the issue of visibility from air quality.
"Visibility, of course, is a question of degree. We are talking about small particulates. Do not equate visibility directly with just very bad air. We are doing our best. Visibility is important. What about blue skies? Blue skies implies visibility and for that reason that certainly is my priority," he said.
Activists were quick to pounce, saying the China-backed chief executive had missed the point and accusing his government of being out of touch.
"It just shows the low level of understanding of the issue at the highest levels of government," said Christine Loh (陸 恭蕙), who heads the liberal Civic Exchange think tank.
"The government is in a state of denial," Loh added. "If they don't understand how bad things are, then they won't be able to work fast enough to solve the problem."
Pollution has become a hot political issue in Hong Kong as smog levels have risen to often dangerous levels. Poor air quality cut visibility to less than 1km on more than 50 days last year.
More worrying, however, is evidence from the medical community that pollution-related illnesses such as bronchitis and asthma are claiming lives in ever greater numbers.
The key tourism industry is also complaining about the problem, with a tour guides association saying 10 percent of customers had gone down with smog-related illnesses while holidaying there.
And international chambers of commerce have issued warnings that their member businesses are pulling out of the city or deciding not to locate here because of the health implications for their staff.
While the pollution problem is mostly due to factories across southern China's booming manufacturing center in Guangdong Province, local coal-burning power stations and diesel-powered buses are also major contributors.
Although the Hong Kong government recently launched an "Action Blue Sky" campaign to persuade citizens to cut down on air conditioner use and slash energy consumption, critics say it is too little, too late.
Tsang came under renewed fire last week when, in his annual state-of-the-territory policy address, he claimed to place air quality at the top of his political agenda without offering any new initiatives.
He has also been criticized for claiming Hong Kong was unlikely to reach emissions targets set recently by the WTO.
"This is not the sort of defeatist thing we want to hear from our leaders," said Paul Zimmerman, head of a high-profile pressure group dedicated to improving the quality of life in Hong Kong.
"If they are not prepared to do anything, how can they expect the citizens to try?" he asked, adding that there seemed to be a "cynical" plot going on.
"The government doesn't want to put any initiatives forward because it simply doesn't want to have to do anything. This is a problem that is going to take a lot of knuckling down and hard negotiating with China," said Zimmerman, who was also on the radio phone-in show with Tsang.
Comments will be moderated. Keep comments relevant to the article. Remarks containing abusive and obscene language, personal attacks of any kind or promotion will be removed and the user banned. Final decision will be at the discretion of the Taipei Times.