Committee attacks US response to post-9/11 health claims
CLEARING THE AIR A hearing accused the Bush administration of ignoring health problems caused by foul air in the wake of New York's Sept. 11 attacks
After listening to recovery workers at ground zero and downtown residents emotionally describe how they had been ignored and insulted as they sought help for health problems after the Sept. 11 attack, members of a congressional subcommittee on Friday roundly criticized the federal response and called for sharply increased medical spending.
Subcommittee members, joined by Democrat senators Hillary Clinton and Charles Schumer, accused the Bush administration of ignoring the health problems that arose among workers who toiled at ground zero and the claims of downtown residents who say they were also sickened by the dust.
The subcommittee hearing, the fourth to be held since the attack, came amid rising concern about the long-term health effects on about 40,000 workers and volunteers who were exposed to toxic smoke and dust. The subcommittee is examining the way the limited federal funding has been used to address the health problems and is to look for ways to better coordinate those efforts.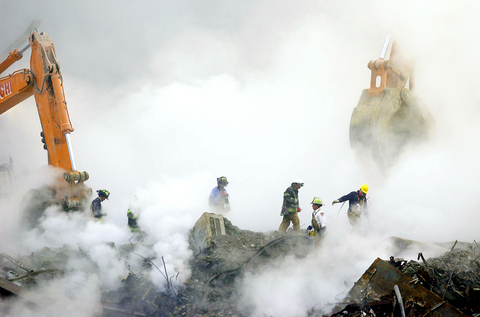 Firefighters make their way over the ruins of the World Trade Center through clouds of smoke at ground zero on Thursday, Oct. 11, 2001, in New York, one month after the terrorist attacks on the World Trade Center. City and federal officials came under withering criticism on Friday from lawmakers who charged that ground zero workers were not protected as they clambered over a smoking pile of toxic debris -- and have not been properly cared for since.
PHOTO: AP
Republican Representative Vito Fossella criticized the government for not having done even basic work to record how many people participated in the cleanup and recovery operations.
Schumer said that the US$55 million in federal funds set aside for medical treatment of rescue and recovery workers was inadequate.
Steven Centore, 49, was a team leader at ground zero for the Department of Energy's radiological assistance program. He said he is now suffering from respiratory, circulatory and gastrointestinal problems. His liver is failing and he now walks with a cane.
Centore says he struggled with the federal workers' compensation system and has received no financial help from it.
"I feel like it's a contest to see if they're going to give in first or I'm going to die first," he said.
The federal government -- especially the Environmental Protection Agency (EPA) and its former administrator, Christine Todd Whitman -- have been accused of falsely stating, in the first days after the attack, that the air downtown had been safe to breathe.
At an appearance on Friday in Harlem, Clinton said she felt that Whitman and her agency had "deliberately misled people" into thinking it was safe to return to Lower Manhattan.
A report by the Inspector General's office in 2003 found that the EPA went beyond what it knew in making general statements about the safety of the air downtown after the attack. It also found that the White House had at least indirectly influenced the wording of some statements by removing cautionary language.
Whitman had defended herself shortly after the release of that report, saying that her statements reflected what was known at the time and applied to areas outside ground zero.
The health of downtown residents has not been as well studied as that of ground zero workers, but limited medical surveys indicate that many residents developed respiratory problems after the attacks.
More than 100 residents gathered Thursday night at St. Paul's Chapel to demand screening and medical treatment.
A bill was introduced at Friday's hearing that would make any rescue and recovery workers -- as well as downtown residents and sickened schoolchildren -- eligible for treatment under the Medicare program.
Democratic Representative Carolyn Maloney from New York introduced a bill that would reopen the Sept. 11 Victim Compensation Fund to make assistance available to those who are ill.
For her part, Clinton said that she would push for an additional federal appropriation to cover the rising costs of medical treatment.
"We cannot rest until we put into place a system to care for every single person who was affected by [Sept. 11]," she said.
Comments will be moderated. Keep comments relevant to the article. Remarks containing abusive and obscene language, personal attacks of any kind or promotion will be removed and the user banned. Final decision will be at the discretion of the Taipei Times.