Pakistan rebel's burial leads to unrest
`UNETHICAL AND IMMORAL' Nawab Akbar Bugti, who pushed for more provincial autonomy, was buried so quickly that not even his family members could attend
Pakistani authorities braced for further violence in restive Baluchistan Province yesterday after the controversial burial of a top rebel leader whose death sparked days of deadly rioting.
Nawab Akbar Bugti, a veteran Baluch nationalist seen as a hero for his long-running confrontation with the administration of Pakistani President Pervez Musharraf, was slain last week in his cave hideout in a military offensive.
Authorities, fearing a repeat of the angry protests earlier this week that left 10 dead, quietly buried Bugti's body amid tight security before only a few dozen tribesmen, with his family, friends and supporters absent.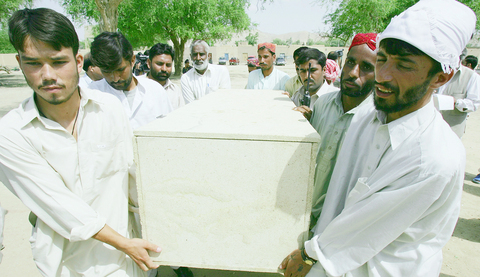 Locals carry a locked coffin allegedly containing the body of rebel Pakistani tribal chief Nawab Akbar Bugti, who was killed last Saturday as the result of a military raid. He was buried yesterday in Dera Bugti, Pakistan. His death sparked widespread protests, officials said, and his family did not give permission for the burial.
PHOTO: AP
Officials said that Bugti's relatives had refused an offer to take them to the ancestral cemetery in the rebel's native Dera Bugti.
Bugti's son Jamil countered that his father was buried against the will of the family, insisting that the body should have been handed over to them.
"It's unethical and immoral. We and the entire Baluch nation are not surprised over this act by the military, which has no regard for values," Jamil said.
"It was our right to receive the body and bury it wherever the family wanted," he said.
The row risked increasing tensions after days of rioting in Baluchistan following the killing of Bugti, who had made demands for provincial autonomy and a greater share of profits from the region's natural resources.
Officials have blamed the collapse of Bugti's cave hideout on an unexplained explosion and have denied trying to kill the white-bearded octogenarian.
It took army engineers, working under tight security, until late on Thursday to dig out Bugti's badly decomposed body. They were still looking for other victims.
The body was found in an "advanced stage of decay", said military spokesman Major General Shaukat Sultan.
Bugti's shattered body was taken to Dera Bugti in a sealed coffin and it was not shown to journalists attending the burial, privately owned GEO television said.
Maulana Malook Bugti, the leader of the main local mosque who led the funeral prayers, told reporters that he had seen the body and identified Bugti, GEO said.
Opposition parties have demanded an inquiry into Bugti's death.
They have also called for a nationwide strike yesterday to mark a "black day" of protest.
Quetta, the provincial capital of Baluchistan, and several other towns were closed for business yesterday and traffic was thin on roads. All markets, banks and schools were closed as police patrolled the city, officials said.
In the southern port city of Karachi, Pakistan's commercial and financial hub, most markets were closed and public transport was not running. Mobs there blocked roads, burned tires and pelted moving vehicles with stones.
Bugti's death prompted four days of rioting that left 10 dead as mobs torched buildings and banks and set off explosions in towns and cities throughout the vast southwestern province.
Baluchistan has seen nearly two years of attacks on pipelines, railway tracks and several government installations and hundreds of people have died since the unrest erupted in late 2004.
The slain tribal leader is survived by two wives, two sons and six daughters.
Comments will be moderated. Keep comments relevant to the article. Remarks containing abusive and obscene language, personal attacks of any kind or promotion will be removed and the user banned. Final decision will be at the discretion of the Taipei Times.