`Pluto power' advocates swamp the Internet with memorabilia
Not long after puny Pluto was stripped of its planethood, Janis Robinson started selling US$25 "Pluto is a planet" T-shirts on the Internet.
Robinson, who said she "rolled her eyes" after Pluto got the boot, hopes her buyers will send a message that kicking out the far-out rock is downright goofy.
"I'm always going to think of Pluto as a planet," said the 45-year-old semi-retiree from San Jose, California, who insists she's not peddling shirts on Craigslist for the money.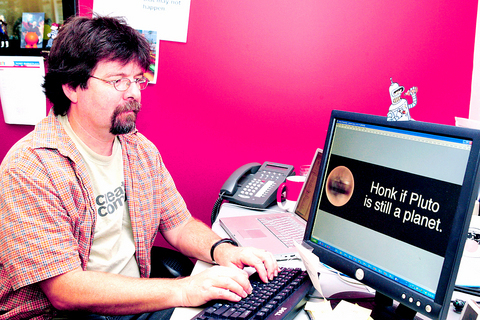 Los Angeles-based Web programmer Chris Spurgeon designs a bumper sticker, ``Honk if Pluto is still a planet,'' at his office in Los Angeles on Friday.
PHOTO: AP
"People who buy this can make a statement that we still believe in Pluto," she said.
Robinson is hardly alone. Scores of Web-savvy sellers hoping to support Pluto and cash in on its demotion to a "dwarf planet" have bombarded the Internet hawking memorabilia worthy of a presidential candidate, from T-shirts and mugs to bumper stickers and mouse pads.
The International Astronomical Union shook up the solar system last Thursday when it declared that Pluto was no longer part of the cosmic club -- the first time the solar system was altered since Pluto was spotted in 1930.
Under new guidelines, Pluto was downgraded to a "dwarf planet," a new category that also includes the asteroid Ceres, the recently discovered object 2003 UB313 and possibly dozens of others.
On Cafepress.com, a San Francisco-area Internet company that prints T-shirts and other merchandise, an explosion of Pluto inventory popped up within 24 hours of the news. By last Friday morning, the site featured 200 designs on more than 1,500 products.
Many items and slogans fretted Pluto's demise and pined for the return of the obsolete nine-planet solar system. T-shirts screamed "Save Pluto" and "Stop Planetary Discrimination" while bumper stickers rallied "Pluto 2006: Running as an Independent Candidate" and "Vote for Pluto."
Others were more wistful. "Pluto, we hardly knew ye ... 1930-2006" was available in adult and kid's apparel as well as caps and bags.
Los Angeles-based Web programmer Chris Spurgeon took 15 minutes to design a bumper sticker on the site featuring a Hubble Space Telescope image and the slogan "Honk if Pluto is still a planet."
"I'm not burning with anger about the Pluto decision, but it has touched a nerve with a lot of people," said Spurgeon, 51, whose own car is plastered with bumper stickers.
On Friday morning, Spurgeon had received 100 orders for his bumper stickers, which cost US$4 each. He plans to donate the money to the Planetary Society, a space advocacy group.
Cafepress.com spokesman Marc Cowlin said the spike in Pluto-related products probably reflects people's dismay. He said the Pluto items are "hot," but it's too early to tell how well they will sell.
"Pluto is a planet we've known all our lives and suddenly it's not. People are taken by surprise," Cowlin said.
Jennifer Vaughn of the Planetary Society was unfazed to see the surge in Pluto merchandise given the sentimental attachment to the former ninth rock from the sun.
"The public has certainly supported Pluto as a planet," Vaughn said. "They see it as a bit of a cultural loss."
In 1999, when Pluto's planethood was threatened, a barrage of letters from schoolchildren worldwide prompted the professional astronomers' group to issue a rare public statement affirming Pluto's status. It's too early to know how the latest rally around Pluto will go.
Comments will be moderated. Keep comments relevant to the article. Remarks containing abusive and obscene language, personal attacks of any kind or promotion will be removed and the user banned. Final decision will be at the discretion of the Taipei Times.