Son-in-law of Malaysian PM leads anti-US protest
`ISRAEL IS THE DEVIL' As ASEAN foreign ministers engaged in regional security talks yesterday, demonstrators criticized the US for backing Israel in the Lebanon conflict
Hundreds of anti-US protesters yesterday broke through a protective police cordon and marched to the entrance of a convention center where US Secretary of State Condoleezza Rice was meeting with other foreign ministers.
The protesters, mostly members of Malaysia's ruling coalition and led by the prime minister's son-in-law, raised their fists and chanted slogans against Washington's backing of Israel in the Lebanon conflict.
"Dr. Rice, I will not leave until you come out!" shouted Khairy Jamaluddin, the protest leader, as riot police held him back at the doorway to the convention center.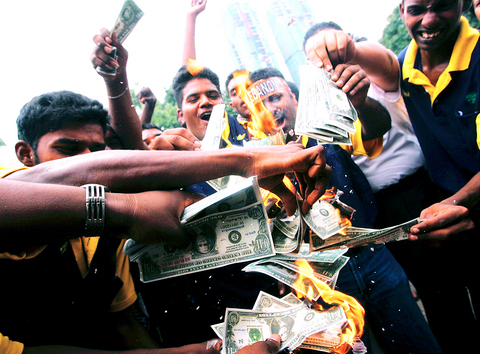 Malaysian protesters demonstrating against the US administration and developments in the Middle East burn fake US dollar bills outside the Kuala Lumpur Convention Center, the venue for the ASEAN Regional Forum in Kuala Lumpur, Malaysia, yesterday.
PHOTO: EPA
"Israel is a wild beast. Israel is the Devil!" he shouted, demanding that a US representative meet him.
Khairy, a British-educated investment banker, is the deputy leader of the youth wing of the United Malays National Organization, the main component of the ruling Barisan National coalition.
Riot police, some mounted on horses, tried to form a human barrier to stop the protesters who were wearing orange bandanas with the slogan: "Save Lebanon, Stop Israel."
While the main mass of the protesters were blocked, a smaller group with Khairy broke through.
By allowing the protest to take place so close to the convention center, the Malaysian government is apparently sending a signal that it is upset with the US government's refusal to persuade Israeli to end its military strikes on Lebanon.
Such protests are rare in Malaysia, where a police permit is required for public demonstrations.
Khairy was briefly let into the conference center but ushered out immediately. He and others sat on the floor, refusing to leave even as heavy rain fell.
Khairy said the people of Malaysia do not want Rice in the country "because you have done nothing to stop the genocide and the murder of Palestinians and Lebanese."
Earlier the protesters burned US flags and an effigy of Rice. They also beat an effigy of US President George W. Bush with sticks. About 2km from the convention center, members of the opposition Islamic fundamentalist party held a noisy demonstration outside the US embassy.
Comments will be moderated. Keep comments relevant to the article. Remarks containing abusive and obscene language, personal attacks of any kind or promotion will be removed and the user banned. Final decision will be at the discretion of the Taipei Times.